Looking for a new voice? A novel to take with you to the beach this summer? Join Callie Wright, award winning short-story writer and staffer at Vanity Fair for a reading and signing of her debut novel Love All, a family drama.

For more information, visit the event page.
Book Signing Event Details
---
Date: July 30 2013, Time: 7:00 PM
Barnes & Noble
2289 Broadway
New York, NY 10024
(212) 362-8835
---
About Love All: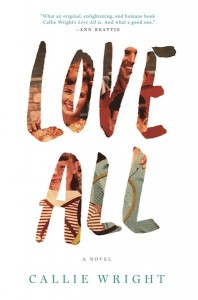 An addictive and moving debut about love, fidelity, sports, and growing up when you least expect it, told through the irresistible voices of three generations
It's the spring of 1994 in Cooperstown, New York, and Joanie Cole, the beloved matriarch of the Obermeyer family, has unexpectedly died in her sleep. Now, for the first time, three generations are living together under one roof and are quickly encroaching on one another's fragile orbits. Eighty-six-year-old Bob Cole is adrift in his daughter's house without his wife. Anne Obermeyer is increasingly suspicious of her husband, Hugh's, late nights and missed dinners, and Hugh, principal of the town's preschool, is terrified that a scandal at school will erupt and devastate his life. Fifteen-year-old tennis-team hopeful Julia is caught in a love triangle with Sam and Carl, her would-be teammates and two best friends, while her brother, Teddy, the star pitcher of Cooperstown High, will soon catch sight of something that will change his family forever.
At the heart of the Obermeyers' present-day tremors is the scandal of The Sex Cure, a thinly veiled roman à clef from the 1960s, which shook the small village of Cooperstown to the core. When Anne discovers a battered copy underneath her parents' old mattress, the Obermeyers cannot escape the family secrets that come rushing to the surface. With its heartbreaking insight into the messy imperfections of family, love, and growing up, Love All is an irresistible comic story of coming-of-age—at any age.