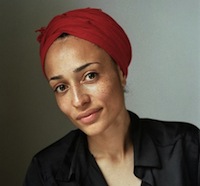 December 15 2012
7:00 pm
BookPeople
603 North Lamar Blvd
Austin, TX 78703
(512) 472-5050
Bestselling Author ZADIE SMITH will be speaking and signing her new novel, NW.
To get a book signed at one of our events, a copy of the event book must be purchased from BookPeople.
"A boldly Joycean appropriation, fortunately not so difficult of entry as its great model… Like Zadie Smith's much-acclaimed predecessor White Teeth (2000), NW is an urban epic." –Joyce Carol Oates, The New York Review of Books
Join us this evening as welcome one of modern fiction's most important, critically acclaimed authors – Zadie Smith. She will be here to read from her new novel, NW.
Zadie Smith's brilliant tragi-comic new novel follows four Londoners – Leah, Natalie, Felix and Nathan – as they try to make adult lives outside of Caldwell, the council estate of their childhood. From private houses to public parks, at work and at play, their London is a complicated place, as beautiful as it is brutal, where the thoroughfares hide the back alleys and taking the high road can sometimes lead you to a dead end. Depicting the modern urban zone – familiar to town-dwellers everywhere – Zadie Smith's NW is a quietly devastating novel of encounters, mercurial and vital, like the city itself.
Zadie Smith was born in north-west London in 1975, and continues to live in the area. White Teeth is her first novel and has won awards for Best Book and Best Female Newcomer at the BT Emma Awards (Ethnic and Multicultural Media Awards), the Guardian First Book Award, the Whitbread Prize for a first novel in 2000, the James Tait Black Memorial Prize for fiction 2000, the WH Smith Book Award for New Talent, the Frankfurt eBook Award for Best Fiction Work Originally Published in 2000 and both the Commonwealth Writers First Book Award and Overall Commonwealth Writers Prize. She is also the author of Autograph Man and On Beauty. Zadie Smith made the Granta list for 2003.