Ever wonder what goes into narrating an audio book? Or why certain audio versions capture your attention more than others? Find out from the narrators themselves, in conversation with the author.
Join Ann Leary, author of The Good House, as she leads a panel discussion on audio book narration. With actors Mary Beth Hurt, Fred Berman and Katherine Kellgren.
For more information, visit the event page.
Event Details
---
Date: July 15 2013, Time: 7:00 PM
Barnes & Noble
150 East 86th Street
New York, NY 10028
(212) 369-2180
---
About The Good House: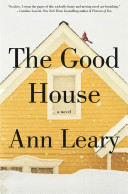 "One of the best works of Massachusetts fiction in recent memory."
(Boston Magazine)
A New York Times Bestseller!
Hildy Good is a townie. A lifelong resident of an historic community on the rocky coast of Boston's North Shore, she knows pretty much everything about everyone. Hildy is a descendant of one of the witches hung in nearby Salem, and is believed, by some, to have inherited psychic gifts. Not true, of course; she's just good at reading people. Hildy is good at lots of things.  A successful real-estate broker, mother and grandmother, her days are full. But her nights have become lonely ever since her daughters, convinced their mother was drinking too much, staged an intervention and sent her off to rehab.  Now she's in recovery—more or less.
Alone and feeling unjustly persecuted, Hildy needs a friend. She finds one in Rebecca McCallister, a beautiful young mother and one of the town's wealthy newcomers. Hildy feels like a person of the world again, as she and Rebecca escape their worries with some harmless gossip, and a bottle of wine by the fire—just one of their secrets.
But not everyone takes to Rebecca, who is herself the subject of town gossip.When a cluster of secrets become dangerously entwined, the reckless behavior of one threatens to expose the other, and this darkly comic novel takes a chilling turn.
A classic New England tale that lays bare the secrets of one little town, this spirited novel will stay with you long after the story has ended.