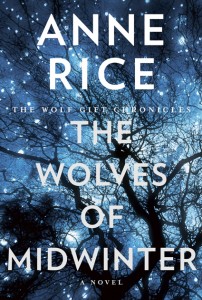 Anne Rice, the bestselling author of gothic fiction, will be making an appearance in NYC to sign copies of her new book "The Wolves of Midwinter".
Anne Rice is an American author of not only gothic fiction but also of Christian literature and erotica. She is perhaps best known for her popular and influential series of novels, The Vampire Chronicles, revolving around the central character of Lestat. "The Wolves of Midwinter" will be released on October 15, 2013. Event details are below.
Book Signing Details
10/16/13 7:00 PM
Barnes & Noble
33 E 17th St,
New York, NY 10003
Phone:(212) 253-0810
Book Description
The tale of The Wolf Gift continues . . .
In Anne Rice's surprising and compelling best-selling novel, the first of her strange and mythic imagining of the world of wolfen powers ("I devoured these pages . . . As solid and engaging as anything she has written since her early Vampire Chronicles fiction"—Alan Cheuse, The Boston Globe; "A delectable cocktail of old-fashioned lost-race adventure, shape-shifting, and suspense"—Elizabeth Hand, The Washington Post), readers were spellbound as Rice conjured up a daring new world set against the wild and beckoning California coast.
Now in her new novel, as lush and romantic in detail and atmosphere as it is sleek and steely in storytelling, Anne Rice takes us once again to the rugged coastline of Northern California, to the grand mansion at Nideck Point, and further explores the unearthly education of her transformed Man Wolf.
The novel opens on a cold, gray landscape. It is the beginning of December. Oak fires are burning in the stately flickering hearths of Nideck Point. It is Yuletide.
For Reuben Golding, now infused with the Wolf Gift and under the loving tutelage of the Morphenkinder, this promises to be a Christmas like no other . . .
The Yuletide season, sacred to much of the human race, has been equally sacred to the Man Wolves, and Reuben soon becomes aware that they, too, steeped in their own profound rituals, will celebrate the ancient Midwinter festival deep within the verdant richness of Nideck forest.
From out of the shadows of Nideck comes a ghost—tormented, imploring, unable to speak yet able to embrace and desire with desperate affection . . . As Reuben finds himself caught up with—and drawn to—the passions and yearnings of this spectral presence, and as the swirl of preparations reaches a fever pitch for the Nideck town Christmas festival of music and pageantry, astonishing secrets are revealed; secrets that tell of a strange netherworld, of spirits other than the Morphenkinder, centuries old, who inhabit the dense stretches of redwood and oak that surround the magnificent house at Nideck Point, "ageless ones" who possess their own fantastical ancient histories and who taunt with their dark magical powers . . .
Related category – Anne Rice signed books.