Have you read Stephen King's latest novel, Joyland? The Huffington Post, as part of their "Under the Covers" series, recently interviewed cover designer, Max Phillips, according to whom, you can sometimes judge a book by its cover.
"Stephen King's carny-saturated Joyland evokes the ghosts of summers past — literally."  (New York Magazine)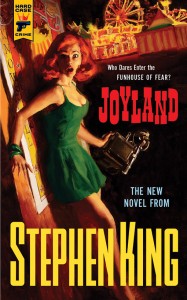 Because it's a carny novel, set in the summer of 1973, Phillips wanted the cover to look old, even though the book was new. So he restricted his fonts and lettering to styles available in art departments half a century ago. He even tried to keep the layout simple, like a rough draft of a painting, in keeping with the tight deadlines paperback designers would have had to work with at the time. He worked with painter Glen Orbick who had the ability to carry off the "old pulp stuff" convincingly and without resorting to new digital advances to fine-tune images.
The resulting cover is evocative. It has drama, sex appeal. And it sets us up for what the book will be about – and more importantly, how the book will feel.
To see if the cover matches the contents, you can get yourself a copy of Joyland here.
About Joyland
Set in a small-town North Carolina amusement park in 1973, Joyland tells the story of the summer in which college student Devin Jones comes to work as a carny and confronts the legacy of a vicious murder, the fate of a dying child, and the ways both will change his life forever.
"I love crime, I love mysteries, and I love ghosts. That combo made Hard Case Crime the perfect venue for this book, which is one of my favorites. I also loved the paperbacks I grew up with as a kid, and for that reason, we're going to hold off on e-publishing this one for the time being. Joyland will be coming out in paperback, and folks who want to read it will have to buy the actual book."   (Stephen King)