New this week are a gorgeous six-volume leather-bound Greg Bear set and two rare gems by the master of horror, Stephen King. All titles are signed by the authors and in beautiful condition. Wonderful holiday gifts for yourself or a loved one. Follow the links or just click on the images to learn more and add these titles to your cart.
We appreciate your stopping by and hope you'll take advantage of time-saving alerts periodically sent right to your inbox, on all new arrivals, plus contests, featured book signing events, book collecting articles, special offers and more by taking a moment to sign up for our Free Newsletter.
[hr]
Easton Press, Greg Bear, Signed First Edition Matched Collection of 6 Volumes w/COA, As New (Sealed)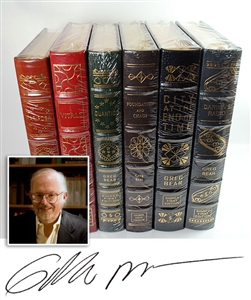 A fantastic addition to your science fiction library. A matching Signed First Edition collection from Easton Press, each volume has been personally hand signed by Greg Bear, one of science fiction's most accomplished writers. Read the full details.
Greg Bear is a multiple Hugo and Nebula award-winning author. Bold scientific speculation, riveting plots, and a fierce humanism reflected in characters who dare to dream of better worlds distinguish his work. Now Bear has written a mind-bendingly epic novel that may well be his masterpiece.
Condition: All volumes in As New condition
[hr]
Doubleday 1977, Stephen King "The Shining" Signed First Edition – First Printing, Fine/NFine w/Leather Bound Case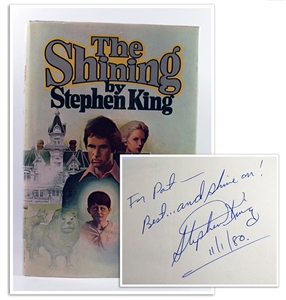 An excellent original signed first edition from 1977. See all photos.
The Shining, one of his most famous works, quickly became a benchmark in the literary career of Stephen King. This amazing collectible is sure to delight the most discerning horror fan.
This first printing has been signed by Stephen King with a personal inscription only one year after publication on the FFEP (First Free End Paper) :
"For Pat –
Best…and shine on!
Stephen King
11/1/80"
Condition: Fine/Near Fine.
[hr]
Viking 1996, Stephen King "Desperation" Signed First Edition, dj/HC Fine/Fine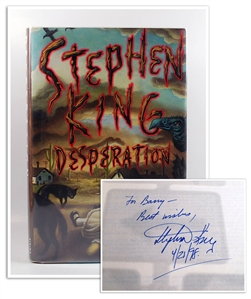 A rare signed first edition of "Desperation" for the discerning collector. Buy it now.
Viking Penguin 1996. dj/HC. Stephen King "Desperation". First Edition. First Printing. Signed. Full number line as required on the copyright page. 690 pages. $27.95 price printed on the dust-jacket flap. Included with this item is also a 1996 New York Time Book Review article about Desperation.
Personally signed by Stephen King directly into the book:
"For Barry –
Best wishes,
Stephen King
4/21/98"
Condition: Fine/Fine.