New this week are three scarce and wonderful items to enhance your library, by authors Stephen King and William Peter Blatty, and film icon Kirk Douglas. Along with these are a very hard to come by, complete Astronaut Library and an exquisite, extremely rare historic book signed by John D. Rockefeller. Follow the links or just click on the images to learn more and add these titles to your cart. All five offerings this week make wonderful holiday gifts for yourself or a loved one.
As always, thanks for stopping by, and if you haven't already, sign up for our Free Newsletter and take advantage of time-saving alerts periodically sent right to your inbox, on all new arrivals, plus contests, featured book signing events, book collecting articles, special offers and more.
[hr]
"A Visit To Mr. John D. Rockefeller By Neighbors and Friends at Forest Hill Cleveland Ohio" Signed Limited #275/425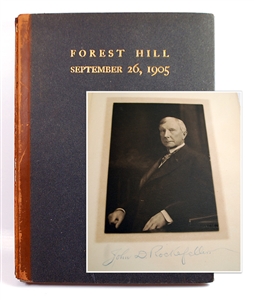 Personally Hand Signed by John D. Rockefeller on the frontispiece below his photo portrait. Buy it now.
An original copy, one of only 425 SIGNED by Rockefeller, this being No. 275 presented to Mr. S.L. Pierce. This hardcover volume is bound in charcoal boards with a tan leather spine and gilt lettering. It consists of 36 sheets printed only on the recto and a portrait of Rockefeller neatly SIGNED by him beneath the image in blue pencil. Small quarto edition measuring 7-1/2″ x 10″.
This souvenir book commemorates the day Rockefeller, founder of Standard Oil, was visited by 300 Cleveland businessmen outside his home. Included are 38 pages of the speeches delivered that day, including speeches by Liberty E. Holden and Andrew Squire, and the speech given by Rockefeller in response. As this being the only book he ever signed, books signed by Rockefeller are extremely rare.
Condition: Very Good+ with light toning throughout, mirroring of portrait on protective tissue paper. Some light wear to covers, and leather spine. A tight spine without any separation. No other marks, writing, or stamps inside or out. All photos of the actual item.
[hr]
Easton Press – Astronaut Library , Signed Limited Edition, 6 Vols, #1,663/3000 Matching Leather Bound Complete Set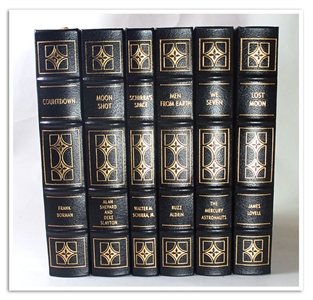 Personally hand signed by the author directly into the book. The perfect high end space gift for the space historian. Buy it now.
Easton Press. Full genuine black leather. From the library of the astronauts. Rare and now out of print. The ultimate collection for the space collector. A complete and matching number set, all six volumes with Number 1,663 of 3,000. Eight signatures in all. Signed and dated by each astronaut along with a witness.
Condition: All six volumes in Fine condition. The condition is of the highest quality. Free of markings, writings, or stamps. No bookplates attached or signs of any removed. Includes original COAs, collector notes, and unattached bookplates for your own personalization.
[hr]
Easton Press, William Peter Blatty "The Exorcist" Signed Limited Edition (COA and Collector's Notes) Sealed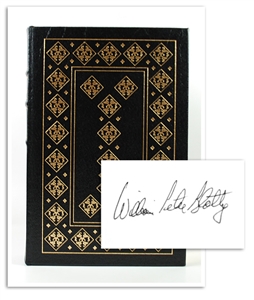 Personally signed by William Peter Blatty on a special dedication page. Add to cart.
When originally published in 1971, The Exorcist became not only a bestselling literary phenomenon, but one of the most frightening and controversial novels ever written. When the author adapted his book to the screen two years later, it then became one of the most terrifying movies ever made.
Easton Press, Norwalk, CT. 2000. William Peter Blatty "The Exorcist" Signed Limited Collector's Edition. Full genuine leather. A rare collector's edition. Includes COA, publisher's notes and unattached bookplate for your own personalization. Very fine without any flaws. As New, still sealed in the original shrink-wrap.
[hr]
Easton Press, Kirk Douglas "I Am Spartacus" Signed First Edition of only 700 w/COA (Sealed)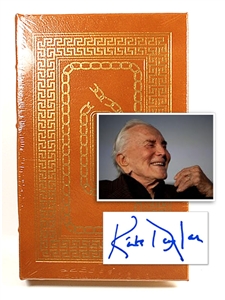 A wonderful leather bound heirloom, personally signed by one of the world's most iconic movie stars, Kirk Douglas on a special limitation page. See all photos.
One of only 700 produced in this special collector's edition. Full genuine leather. Certificate of Authenticity from Easton Press guarantees the signature as genuine. The COA is signed and dated by Douglas along with a witness. This edition also includes the original collector's notes and unattached "Signed First Edition" book-plate for your own personalization. 5.5″ x 8.5″ and 216 pages.
Condition: As New – Still sealed in the original shrink-wrap.
[hr]
Stephen King "The Dark Tower" First Edition, First Printing, Complete 8 Volume Set, Fine/Fine w/Slipcases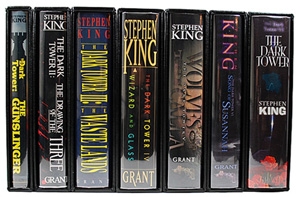 A complete set of The Dark Tower series, which King considers his "magnum opus." Only 1 Set In Stock. Buy it now.
Your eight volumes will arrive with a complete set of matching design slipcases. Each volume is a FIRST EDITION, FIRST PRINTING and in Fine/Fine condition. A wonderful set for the discerning Stephen King collector that would also make a great unique gift for someone special.