Update. Oct. 24,2019 – This autographed hardcover book is now at auction and you can bid on it here.
---
A client recently visited our office in Newburyport to consign a matching trilogy set of The Plant along with a complete 12-volume signed limited edition collection of The Dark Tower (No. 412). Both items will be listed soon.
During his visit, he also presented a rather unusual hardcover book signed by Stephen King. This book was given as a gift to him in 1999 by Michael and Audrey Whelan.
It is called The Politics of Limited Editions, written by Stephen King and autographed by him on the top right of the first page. The non-fiction piece originally appeared within the Castle Rock Newsletter publication in 2 parts back in June and July of 1985 (part I and part II). The book  has no printing on the spine, front or back cover, and no copyright page – it is quarter leather bound.
According to Audrey, she believed the book may have actually been put together by Mr. King. We have not seen another such example.
A unique and interesting item to say the least. It is not documented and even a google search for this title turns up nothing. It has been privately owned since 1999 and few, if any, have been aware of its existence. There has not been any information of another booklet of this kind.
Below is the story in his own words of how he came to possess this book:
I received the Booklet "The Politics of Limited Editions" as a gift for a favor I did in a personal matter for the Artist Michael Whelan. Following my interaction with Michael and his lovely wife Audrey in the Winter of 1999, I had some follow up business with Audrey who owned and operated a business framing artwork. I commissioned her to frame several pieces of art I had in my possession. Of course the artwork was done by Michael, who was involved with Stephen King, having been commissioned for the illustrations in the first Dark Tower book (at that time, he had only done Book I; since then we know he also did the illustrations for Book VII).

In speaking with Audrey we learned that we had attended the same college in Massachusetts at the same time, which was quite a coincidence. We shared some common memories – in particular, a 3 day music fest held on the grounds of the college, which was a much smaller version of the Woodstock Festival in New York the year before.

Along with my newly framed artwork, Michael and Audrey sent this booklet to me as a gift, and wrote a very nice email in which she said that Stephen King had personally given the booklet to Michael as a gift. Audrey thought the booklet was unique in that it appeared Mr. King had actually made the simple "paper bag" type coverings over the hard end boards of the booklet, and the old glue was dried up, thus one could see where the coverings were originally glued to the end boards. She noted that the manuscript was signed by Stephen King on the first page.

This booklet was a personal gift from Mr King to Michael & Audrey, who then gifted it to me. It is a very unique item.

The signature is obviously not a copy. The story appeared originally in "Castle Rock: The Stephen King Newsletter", published on an almost monthly basis from 1985 through 1989. This essay was published in 2 parts, June 1985 (part I) and July 1985 (Part II). To my knowledge that was the only published appearance of this essay. I have cherished this gift for over 20 years. In all of that time my continued research has never found evidence of any other editions like this.
Photos of The Politics of Limited Editions
Below are photos of the book, 32 un-numbered pages, and two end papers to color match the quarter leather cover binding.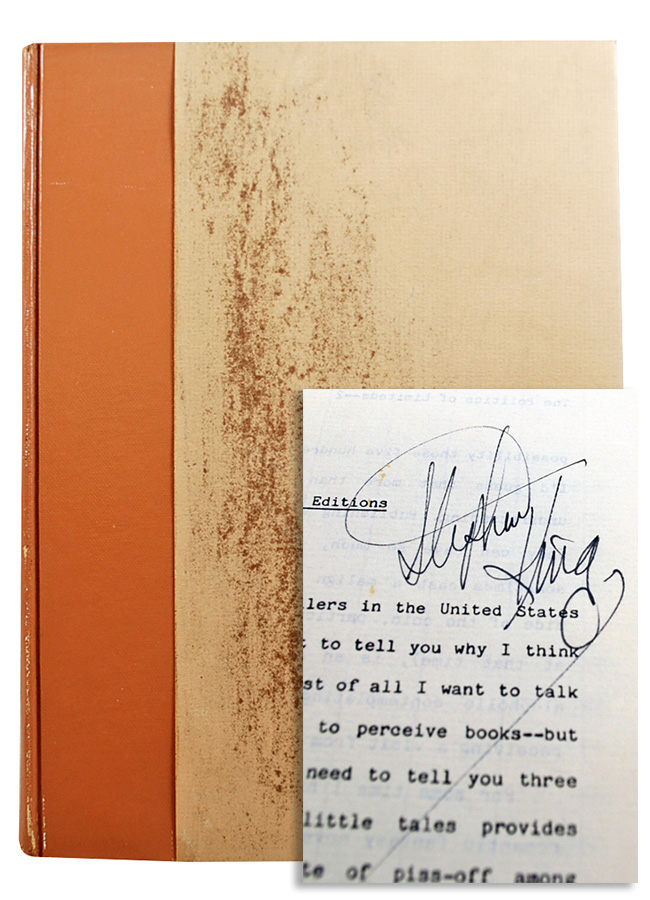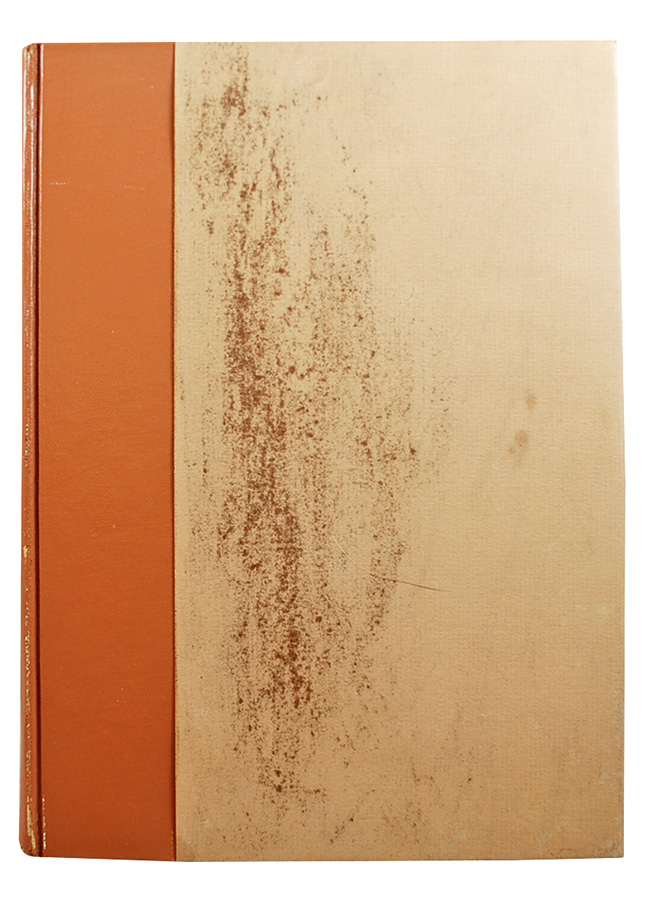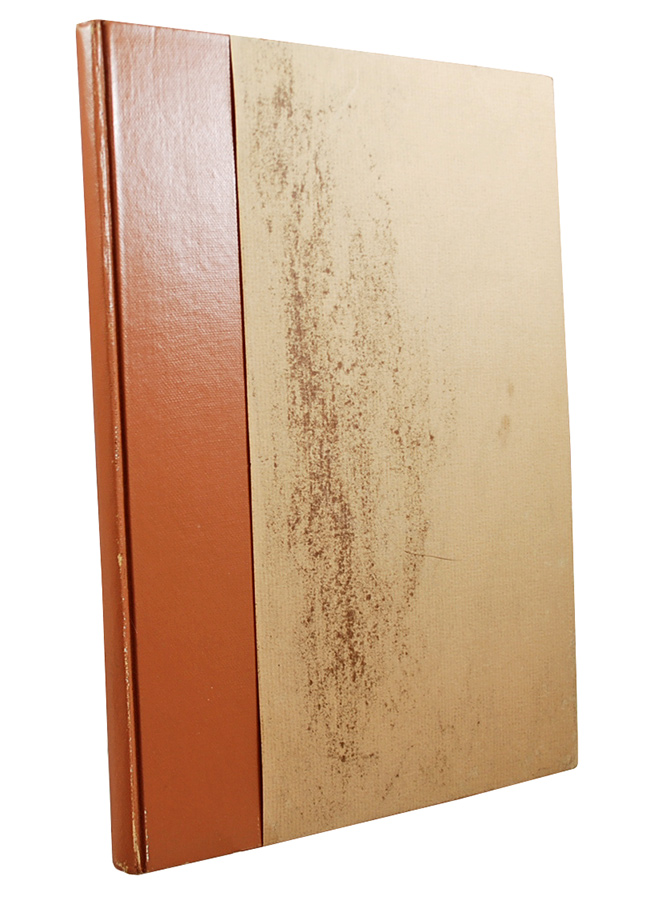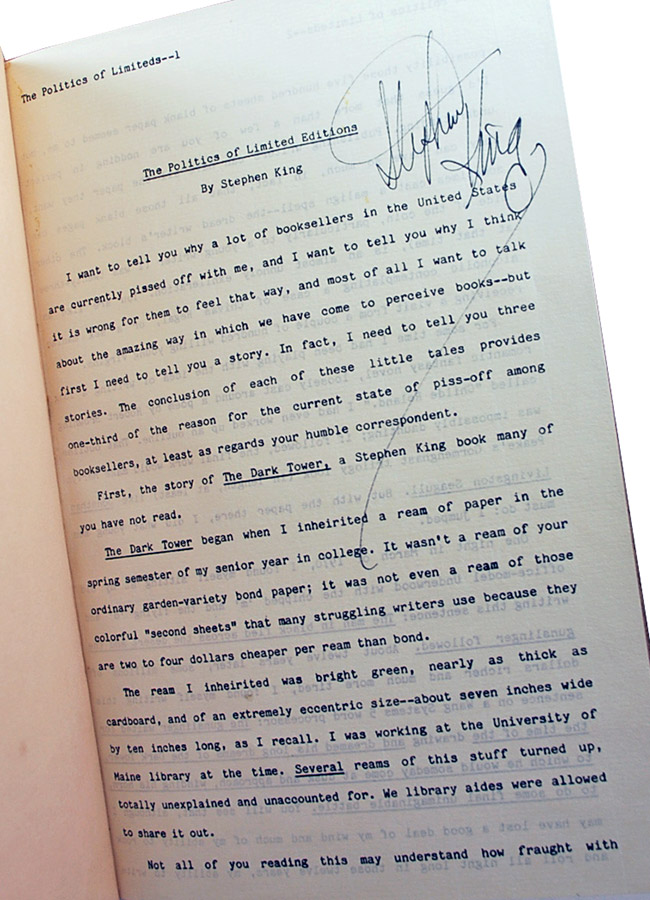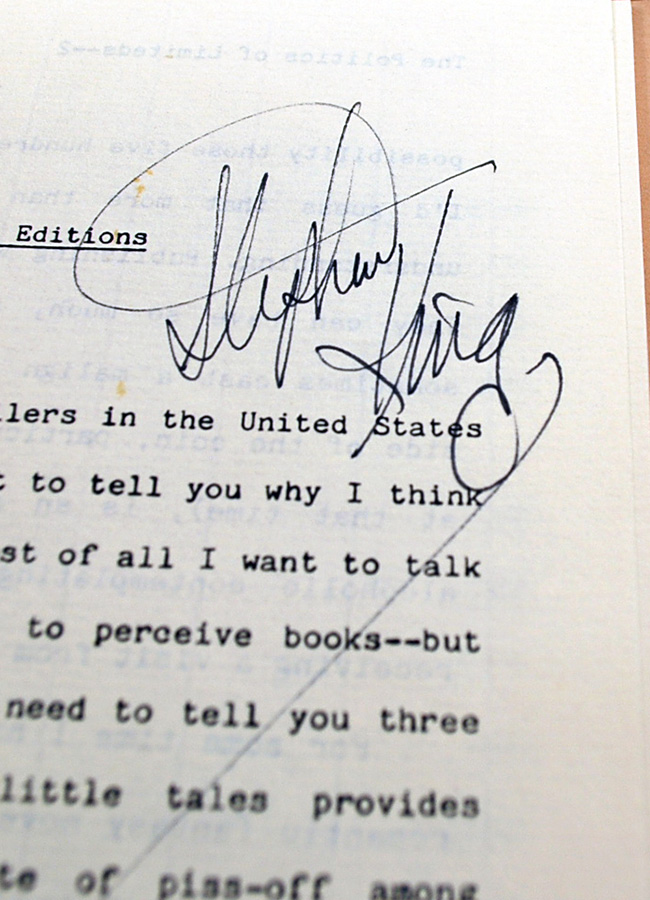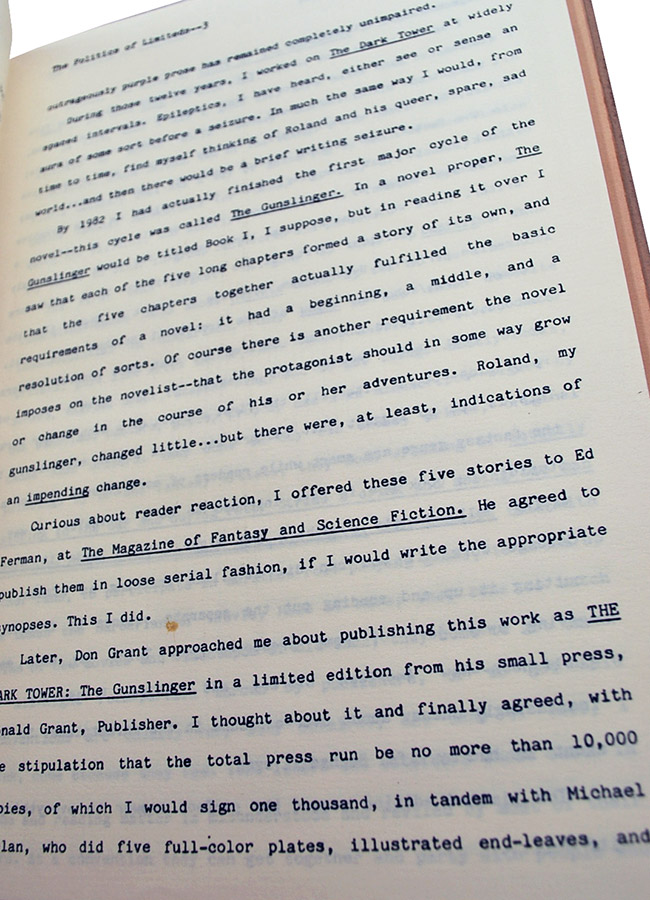 If you have any questions about this item or wish to share any additional relevant information, please do so below by posting a comment: