A new acquisition for our online catalog this week. "The Novels and Short Stories of John Steinbeck" in six leather bound volumes by Easton Press.
This is the collected works of John Steinbeck. John Steinbeck is the winner of the 1962 Nobel Prize in Literature, and has been called "a giant of American letters". His works are widely read abroad and many of his works are considered classics of Western literature.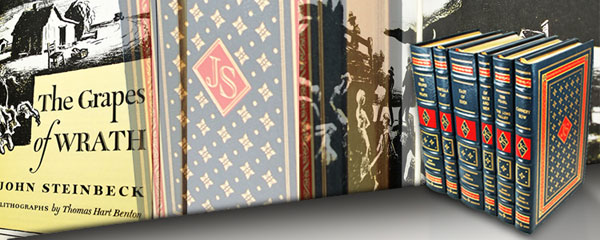 The Novels and Short Stories of John Steinbeck – Limited Collector's Edition Matching 6-Volume Set.
Easton Press. Norwalk, CT. 1997. Limited Collector's Edition. A matching set that makes a monumental addition to the library of any serious collector. Bound in full genuine leather with elegant gold detailing. The "JS" series compilation; an attractive collection bound in rich blue and red leather with the "JS" on each spine. Each edition is illustrated with artworks. The Grapes of Wrath is illustrated with lithographs by Thomas Hart Benton.
This six volume collection from Easton Press includes:
East of Eden
Of Mice and Men
Tortilla Flat
The Pearl/The Long Valley
Cannery Row
The Grapes of Wrath
In stock and ready to ship.
Click here to view photos/information or browse through our complete new arrivals section.