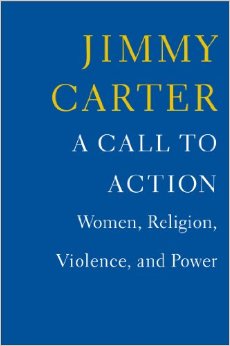 Presidential signatures are one of the most popular areas of autograph collecting – and it's not very often you have a chance to get such an autograph in person.
Coming this March, Jimmy Carter will be making two appearances, one in NY and one in California, to autograph copies of his upcoming new book "A Call To Action".
Jimmy Carter is the former President of the United States and also the winner of the Nobel Peace Prize in 2002.
Book Signing Details
If you are not able to attend any of the signings below, call the bookstore to see if they can reserve a signed copy for you.
Time: 12:00 PM (noon)
Date: 3/25/14
Location:
Barnes & Noble
555 Fifth Ave
New York, NY
Phone: (212) 697-3048
Time: 12:00 PM (noon)
Date: 3/28/14
Location:
Barnes & Noble
189 The Grove Dr,
Los Angeles, CA 90036
Phone:(323) 900-8080
About "A Call To Action"
The world's discrimination and violence against women and girls is the most serious, pervasive, and ignored violation of basic human rights: This is President Jimmy Carter's call to action.
President Carter was encouraged to write this book by a wide coalition of leaders of all faiths. His urgent report is current. It covers the plight of women and girls—strangled at birth, forced to suffer servitude, child marriage, genital cutting, deprived of equal opportunity in wealthier nations and "owned" by men in others. And the most vulnerable, along with their children, are trapped in war and violence.
He addresses the adverse impact of distorted religious texts on women, by Protestants, Catholics, Jews, and Muslims. Special verses are often omitted or quoted out of context to exalt the status of men and exclude women. In a remark that is certain to get attention, Carter points out that women are treated more equally in some countries that are atheistic or where governments are strictly separated from religion.
Carter describes his personal observations of the conditions and hardships of women around the world. He describes a trip in Africa with Bill Gates, Sr. and his wife, where they are appalled by visits to enormous brothels. He tells how he joined Nelson Mandela to plead for an end to South Africa's practice of outlawing treatments to protect babies from AIDS-infected mothers.
Throughout, Carter reports on observations of women activists and workers of The Carter Center. This is an informed and passionate charge about human rights abuses against half the world's population. It comes from one of the world's most renowned human rights advocates.
Publication details:
Hardcover: 224 pages
Publisher: Simon & Schuster (March 25, 2014)
Language: English

Find signed books by Jimmy Carter