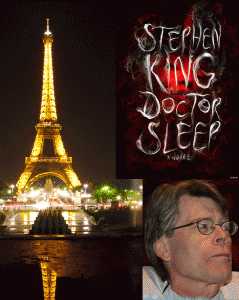 Finally. King is doing a book tour in Europe. Here is the information about the event coming up in Paris, France. It appears that you will need to make arrangements to get there before the event starts on November 13th:
Stephen will be doing a book signing on Wednesday the 13th of November from 13:00 till 15:00 at MK2 Bibliothéque, 128-162 Avenue due France, 75013 Paris. This will not be a ticketed event and will be on a first-come, first-served basis so we, therefore, cannot guarantee that all who attend will be able to have a book signed if there are still fans waiting in line after 15:00. To accommodate as many fans as possible, there will be a one book per person limit. Fans may either bring the one book from their personal collection or purchase a book from MK2 at the event.
source: http://www.liljas-library.com/article.php?id=3816
About the Book:
Stephen King returns to the character and territory of one of his most popular novels ever, The Shining, in this instantly riveting novel about the now middle-aged Dan Torrance and the very special twelve-year-old girl he must save from a tribe of murderous paranormals.