Drinking with the Inklings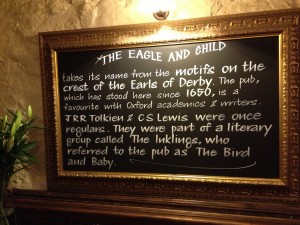 Are you a J.R.R. Tolkien fan? Or C.S. Lewis? Ever wondered where they whet their whistle while they were at Oxford? The two writers were part of a literary group known as "The Inklings," who met to discuss literature, writing, religion, and life. And they did so at a pub that dates back to the sixteenth century! Now owned by St. John's College, the Eagle and Child has been a traditional, ale-pouring public house since 1650, and is a popular Oxford tourist spot. But when Lewis and Tolkien frequented it, it was more lovingly referred to as The Bird and Baby. (Though it has also been known, on occasion, as the Fowl and Foetus.)

A Literary Pub
Should you ever find yourself in Oxford, pop in for a pint! The Eagle and Child is newly expanded and full of literary and historical memorabilia. A new back room, displacing the famous "Rabbit Room" where The Inklings met last for the last time in October 1949, is cheerily decorated with twinkle lights and… bookshelves.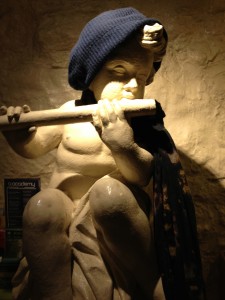 Visiting
Find the Eagle and Child on 49 St. Giles Street in Oxford and explore the place for yourself!
Related: The complete, five-volume set The Lord of the Rings from Easton Press.  Start your own literary pub.