Stephen King Book Quotes Series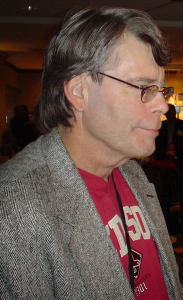 Feel like reliving your favorite moments from your favorite Stephen King novels, but don't have time to reread them all?
We're starting a new  series of Stephen King Book Quotes. Join us every other week or so for some of our favorites, book by book. By the end, we'll have a comprehensive catalogue of all our favorites, organized by book title.

This Week: Carrie
This week, we're starting with Carrie.  Click here for 17 collectible quotations consolidated into one Greatest Hits List for your reminiscing pleasure!
Remember these, for instance?
"High school isn't a very important place. When you're going you think it's a big deal, but when it's over nobody really thinks it was great unless they're beered up.""People don't get better, they just get smarter. When you get smarter you don't stop pulling the wings of flies, you just think of better reasons for doing it."

"Sorry is the Kool-Aid of human emotions. It's what you say when you spill a cup of coffee or throw a gutter ball when you're bowling with the girls in the league. True sorrow is as rare as true love."

".. the late afternoon sunlight, warm as oil, sweet as childhood …"

"Whenever anything happens in America, they have to gold-plate it, like baby shoes. That way you can forget it."
Did we miss one?
If we missed one of your favorite Carrie quotes, just let us know in the "Add Your Own" section directly beneath the quotation list.
Carrie for Collectors
And if you haven't read Carrie… (or even if you have, even if you've read it a thousand times) perhaps you ought to add one of these treasures to your collection. We particularly like the signed and inscribed first edition.
Happy Wednesday, everyone. And enjoy! Share with your friends on Facebook and Twitter!