Stan Lee "The Zodiac Legacy" Signed First Edition
Personally signed by the comic book legend Stan Lee directly into the book.
A special new addition to our online catalog this week. A new signed first edition, personally signed by the Marvel comic legend Stan Lee, and one of only 300 books that were signed! This signed book was obtained in person at the only book signing event that Stan Lee did for this second installment from the Zodiac Legacy series.
?
The event was held just last week, on Jan. 30th of 2016 at the Barnes N Noble in Los Angeles, CA. It was limited to only 300 tickets, which were quickly sold out. Only 300 people were able to obtain signed books for this title, which makes it a rare find indeed, and sure to become a highly collectible book from the Marvel universe.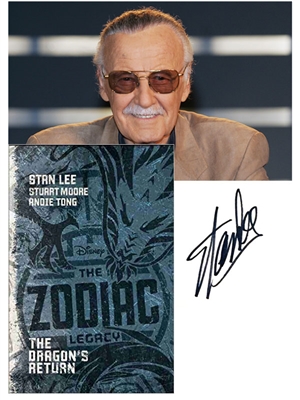 (Limit 1 per customer. This title is currently incoming and ships on Feb. 15th, 2016)
About the book
Disney Press (Jan. 2016). Stan lee "The Zodiac Legacy: The Dragon's Return" Signed by the author directly into the book. A hardcover first edition with dust-jacket. 432 pages.
In this second illustrated novel of The Zodiac Legacy series, the dangerous dragon power only grows stronger within Jasmine, and Steven struggles to hold their ragtag team together. But as alliances become strained, the line between the "good guys" and the "bad guys" becomes blurrier and blurrier. And it all culminates in a major cliffhanger that readers won't see coming!
Stan Lee is known to millions as the man whose Super Heroes propelled Marvel to its preeminent position in pop culture. His co-creations include Spider-Man, The Avengers, Iron Man, The Incredible Hulk, The Fantastic Four, as well as hundreds of others. He introduced Spider-Man as a syndicated newspaper strip that became the most successful of all syndicated adventure strips appearing in more than 500 newspapers worldwide. Stan currently remains Chairman Emeritus of Marvel, as well as a member of the Editorial Board of Marvel Comics. He is also the Chairman & Chief Creative officer of POW! Entertainment, a multimedia entertainment company based in Beverly Hills, CA.