A good opportunity for the collector of political books. Donald Trump and Ben Carson, the current republican presidential hopefuls and front-runners, will be making several appearances to sign copies of their latest books, "Crippled America" and "A More Perfect Union". Book signing details and instructions are below.
If you are not able to attend the events below and would still like to order signed copies of their books, please search our bookstore for signed Trump books, or signed Carson books.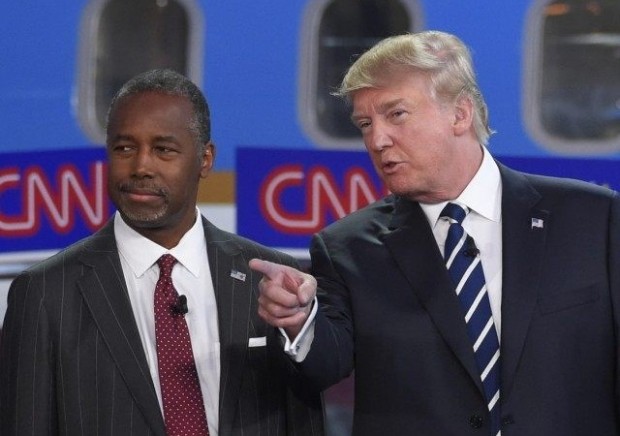 Donald Trump will be making a stop at the Barnes N Noble in New York City to sign copies of Crippled America. The new book is scheduled to be released on Nov. 3rd.
Book signing details
11/3/15 Noon
Barnes & Noble –
555 Fifth Avenue
New York, NY 10017
212-697-3048
Special event instructions (BN)- Starting at 9:00AM the day of the event, purchase the title in the Trump Tower Atrium, a wristband will be placed on your right wrist. 3-book limit per customer. Mr. Trump will only sign Crippled America. Signing line will form outside in front of Trump Tower. No memorabilia, posed photography or selfies.
About the book.
Look at the state of the world right now. It's a terrible mess, and that's putting it mildly. There has never been a more dangerous time. The politicians and special interests in Washington, DC, are directly responsible for the mess we are in. So why should we continue listening to them?
It's time to bring America back to its rightful owners—the American people.
I'm not going to play the same game politicians have been playing for decades—all talk, no action, while special interests and lobbyists dictate our laws. I am shaking up the establishment on both sides of the political aisle because I can't be bought. I want to bring America back, to make it great and prosperous again, and to be sure we are respected by our allies and feared by our adversaries.
It's time for action. Americans are fed up with politics as usual. And they should be! In this book, I outline my vision to make America great again, including: how to fix our failing economy; how to reform health care so it is more efficient, cost-effective, and doesn't alienate both doctors and patients; how to rebuild our military and start winning wars—instead of watching our enemies take over—while keeping our promises to our great veterans; how to ensure that our education system offers the resources that allow our students to compete internationally, so tomorrow's jobseekers have the tools they need to succeed; and how to immediately bring jobs back to America by closing our doors to illegal immigrants, and pressuring businesses to produce their goods at home.
This book is my blueprint for how to Make America Great Again. It's not hard. We just need someone with the courage to say what needs to be said. We won't find that in Washington, DC.
---
Ben Carson is a retired brain surgeon and lobbying for a difference in America. Carson wrote the Book A More Perfect Union to help Americans learn more about the Constitution and what it stands for.
Book Signing Details
10/10/15 9:00 AM
Barnes & Noble – Richland Fashion Mall.
Columbia, SC.
10/10/15 Noon
Books-A-Million – John Ross Parkway.
Rock Hill, SC.
10/10/15 3:30 PM
Fiction Addiction – Woods Crossing Road.
Greenville, SC.
10/10/15 7:00 PM
Books-A-Million – Sugarloaf Parkway.
Lawrenceville, GA.
10/11/15 3:30 PM
Barnes & Noble – Hamilton Place Mall.
Chattanooga, TN.
10/11/15 7:00 PM
Books-A-Million – Kingston Pike.
Knoxville, TN.
10/18/15 2:30 PM
Barnes & Noble – Woodlands Mall.
The Woodlands, TX.
10/18/15 8:00 PM
Half Price Books – US Hiway 281 North.
San Antonio, TX.
10/19/15 7:30 PM
Barnes & Noble – West Waco Drive.
Waco, TX.
10/20/15 11:30 AM
Half Price Books – Sherry Lane. Fort Worth, TX.
10/20/15 7:30 PM
Hastings – Southwest Parkway. Wichita Falls, TX.
10/21/15 11:00 AM
Mardel – South Blvd. Edmond, OK.
10/22/15 11:30 AM
Barnes & Noble – East 41st Street.
Tulsa, OK.
10/22/15 7:30 PM
Mardel – East Battlefield Road. Springfield, MO.
10/23/15 11:00 AM
Mardel – West 119th Street. Overland Park, KS.
10/23/15 3:00 PM
Barnes & Noble – SW 17th Street.
Topeka, KS.
10/23/15 7:30 PM
The Bookworm – 90th & Center. Omaha, NE.
11/1/15 3:30 PM
Books-A-Million
North Davis Highway.
Pensacola, FL.
11/1/15 7:30 PM
Books-A-Million
East 23rd Street.
Panama City, FL.
11/2/15 11:30 AM
Books-A-Million
Thomasville Road.
Tallahassee, FL.
11/2/15 4:30 PM
Barnes & Noble
Old Camp Road.
The Villages, FL.
11/2/15 8:00 PM
Books-A-Million
West Osceola Parkway.
Orlando, FL.
11/3/15 2:30 PM
Barnes & Noble
North Dale Mabry Highway.
Tampa, FL.
11/3/15 6:00 PM
Books-A-Million
Towne Center Drive.
Lakeland, FL.
11/4/15 Noon
Bookstore 1
Main Street.
Sarasota, FL.
11/4/15 3:30 PM
Books-A-Million
Dynasty Drive.
Fort Myers, FL.
11/4/15 6:30 PM
Costco
Naples Blvd.
Naples, FL.
11/5/15 Noon
Barnes & Noble
North Kendall Drive.
Miami, FL.
11/5/15 4:00 PM
Barnes & Noble
North Federal Highway.
Fort Lauderdale, FL.
11/5/15 6:30 PM
Costco
Congress Avenue.
Boca Raton, FL.
About the Author
BEN CARSON, MD, was raised by a poor single mother in Detroit. He retired as the director of pediatric neurosurgery at Johns Hopkins Hospital after a groundbreaking medical career of more than thirty-five years. He is the author of eight previous books, including One Nation, One Vote, America the Beautiful, and Gifted Hands. A former member of the President's Council on Bioethics, he is the recipient of the Presidential Medal of Freedom, the highest civilian honor in the country.
Dr. Carson and his wife and coauthor, CANDY CARSON, are the founders of the Carson Scholars Fund, which recognizes the achievements of deserving young people. They have three grown children and two grandchildren, and now live in Florida.
About the Book
Many people have wondered why I've been speaking out on controversial issues for the last few years. They say I've never held political office. I'm not a constitutional scholar. I'm not even a lawyer. All I can say to that is "Guilty as charged."
It's true that I've never voted for a budget America could not afford. I've never raised anyone's taxes. And I've never promised a lobbyist anything in exchange for a donation.
Luckily, none of that really matters. Our founding fathers didn't want a permanent governing class of professional politicians. They wanted a republic, in Lincoln's words, "of the people, by the people, and for the people." A country where any farmer, small-business owner, manual laborer, or doctor could speak up and make a difference.
I believe that making a difference starts with understanding our amazing founding document, the U.S. Constitution. And as someone who has performed brain surgery thousands of times, I can assure you that the Constitution isn't brain surgery.
The founders wrote it for ordinary men and women, in clear, precise, simple language. They intentionally made it short enough to read in a single sitting and to carry in your pocket.