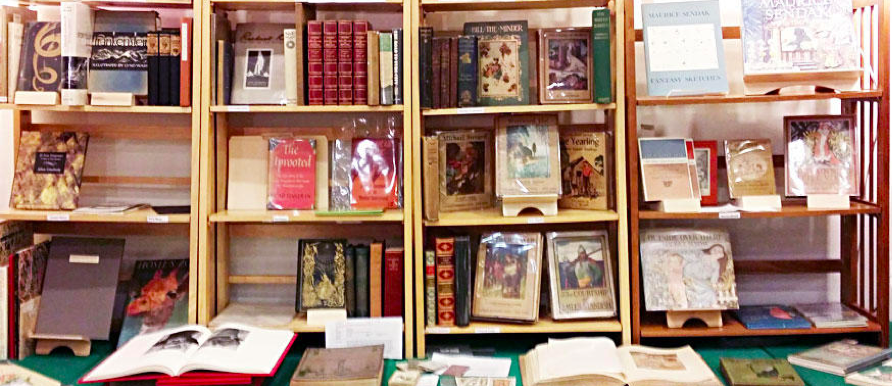 A book fair is so much more than just a collection of used and new books being offered for sale. It's a great place to discover new authors, topics of interest, and rare works  you didn't know existed.
Here is a list of upcoming book fairs for the fall and winter of 2015. Before you attend, please contact the hosting bookstore to confirm the event and for any possible cancellations.
York Book, Paper, & Collectable Show
Saturday, October 31, 9-4
York Fairgrounds Expo Center
Old Main Arena
334 Carlisle Ave
York, PA 17404
---
The Fall Long Island Antiquarian Book Dealers' Fair
Saturday October 31, 11-5
Sunday November 1, 11-4
C. W. Post Library, Hutchins Gallery
720 Northern Boulevard
Brookville, NY 11548
---
Gadsden's Wychwood Old Book and Paper Show
Sunday November 1, 10-4
Artscape Wychwood Barns
601 Christie Street
Toronto, Ontario M6G 4C7
---
Toronto International Antiquarian Book Fair
Friday November 6, 5-9
Saturday November 7, 10-5
Sunday November 8, 12-4:30
Art Gallery of Ontario
317 Dundas Street West
Toronto, Ontario M5T 1G4
---
Saturday November 7, 10-5
The Museum of Printing History
1324 W. Clay Street
Houston, Texas 77019
---
San Marino Postcard & Paper Collectibles Fair
Saturday November 7, 10-6
Sunday November 8, 10-4
San Marino Masonic Center
3130 Huntington Dr.
San Marino, CA 91108
---
Pyramid Atlantic Book Arts Fair
November 2015 — TBA
Photogroup Studios
8040 Georgia Ave
Silver Spring, MD 20910
---
Boston International Antiquarian Book Fair (ABAA)
Friday November 13, 5-9
Saturday November 14, 12-7
Sunday November 15, 12-5
Hynes Convention Center
900 Boylston Street
Boston, MA 02115
PLUS: The Other Boston Book Fair!
---
The Boston Book, Print, and Ephemera Show
Saturday November 14, 8-5
Back Bay Events Center
(aka Dorothy Quincy Suite)
John Hancock Hall
180 Berkeley St.
Boston, MA 02116
---
Vintage Paper Fair — Walnut Creek
Sunday November 22, 10-5
Walnut Creek Elks Lodge
1475 Creekside Drive
Walnut Creek, CA 94956