The Largest Antiquarian Book and Paper Fair in the Rocky Mountain Region
Aug. 1-2, 2014.
Over 80 Sellers
This outstanding book fair offers thousands of collectibles all under one roof, the first weekend in August in the beautiful Rocky Mountains. A perfect time to combine your collecting spirit with a vacation or to introduce yourself to the world of the fine and rare, the special and unusual in the world of books and paper. This is your opportunity to find that rare item you have been searching for. Come, talk and buy from the knowledgeable exhibitors.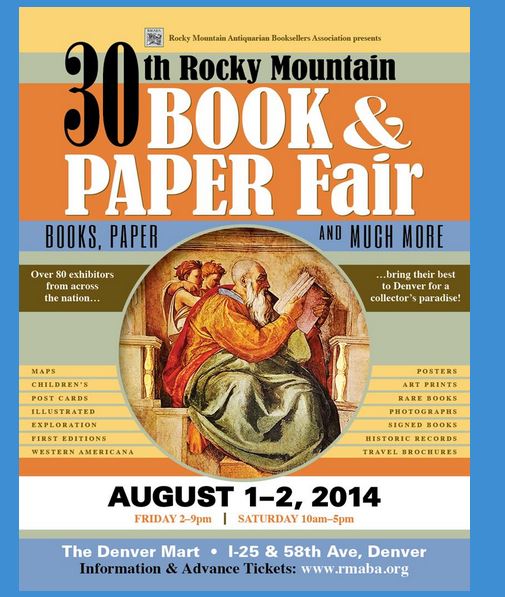 Book Collecting: Past, Present and Future
Keynote Speaker
Sally Burdon joined her mother in the operation of The Old Bookroom, an antiquarian and secondhand book business in Australia's capital city, Canberra, in 1982. Just over 10 years ago Sally decided to specialize exclusively in Asia material. Her experience with books and collecting from the perspective of time and changes she's observed, provide both a reflection and projection. The journey through the Past and Present and into the Future (!) is more than a catch phrase. Please join us for this illuminating talk.
More Special Features to be announced.
Check at the RMBPF website for updates on events and speakers.
www.RMBPF2014.eventbrite.com for tickets and information.