Harvard Divinity School welcomes President JIMMY CARTER to Harvard for a discussion of his latest book, "A Call to Action: Women, Religion, Violence, and Power."
Related category – Presidential Autographs and signed books by Carter.
BOOK SIGNING DETAILS
11/19/14 3:30 PM
(Doors at 2:30)
Memorial Church
1 Harvard Yard, Cambridge MA 02138
Phone:(617) 495-5508
About the Author
Jimmy Carter was born in Plains, Georgia, and served as thirty-ninth President of the United States. He and his wife, Rosalynn, founded The Carter Center, a nonprofit organization that prevents and resolves conflicts, enhances freedom and democracy, and improves health around the world. He is the author of numerous books, including Palestine Peace Not Apartheid, An Hour Before Daylight and Our Endangered Values. He received a "Best Spoken Word" Grammy Award for his recording of Our Endangered Values. All of President Carter's proceeds from this series will go to the Maranatha Baptist Church of Plains, Georgia.
About the Book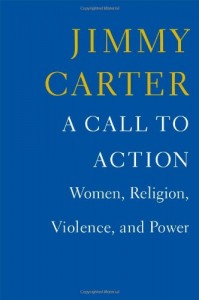 The world's discrimination and violence against women and girls is the most serious, pervasive, and ignored violation of basic human rights: This is President Jimmy Carter's call to action.
President Carter was encouraged to write this book by a wide coalition of leaders of all faiths. His urgent report covers a system of discrimination that extends to every nation. Women are deprived of equal opportunity in wealthier nations and "owned" by men in others, forced to suffer servitude, child marriage, and genital cutting. The most vulnerable, along with their children, are trapped in war and violence.
A Call to Action addresses the suffering inflicted upon women by a false interpretation of carefully selected religious texts and a growing tolerance of violence and warfare. Key verses are often omitted or quoted out of context by male religious leaders to exalt the status of men and exclude women. And in nations that accept or even glorify violence, this perceived inequality becomes the basis for abuse. President Carter and his wife, Rosalynn, have visited 145 countries, and The Carter Center has had active projects in more than half of them. Around the world, they have seen inequality rising rapidly with each passing decade. This is true in both rich and poor countries, and among the citizens within them.
Carter draws upon his own experiences and the testimony of courageous women from all regions and all major religions to demonstrate that women around the world, more than half of all human beings, are being denied equal rights. This is an informed and passionate charge about a devastating effect on economic prosperity and unconscionable human suffering. It affects us all.
Book Signing Guidelines.
Harvard Divinity School welcomes President JIMMY CARTER to Harvard for a discussion of his latest book, A Call to Action: Women, Religion, Violence, and Power.
A Call to Action urges the end of discrimination and abuse against women, calling it the number one challenge in the world today. The book builds on the work of faith leaders and courageous human rights defenders who met in 2013 at the Carter Center to mobilize faith groups worldwide to commit to advancing women's rights. Religion, they said, should be a force for equality and human dignity not oppression.
Admission
Admission is free. Tickets required. Limit of 2 per person. Tickets valid until 3:15 pm. Available by phone and Internet for a fee, in person at the Smith Center Box Office, by calling 617.496.2222, or reserve online at www.boxoffice.harvard.edu starting November 4.
For all who are unable to attend, this event will be live streamed and able to be viewed through hds.harvard.edu.
Book Signing
A book signing with President Carter at the Memorial Church from 5:30 to 7:30pm will follow the lecture.
Books can be purchased in the store at 1256 Massachusetts Ave. (on the corner of Plympton St.), online at harvard.com, or at the event until the start of the lecture at 3:30pm.
Timeline
Doors open to ticket holders at 2:30. Tickets are valid until 3:15pm.
A book signing, open to ticket holders only, will follow from 5:30 to 7:30pm.
Signing Guidelines
President Carter will primarily sign copies of A Call to Action and up to 5 additional backlist titles per customer. Previous titles must be accompanied by at least one copy of A Call to Action.
For more information , please visit The Harvard Bookstore here.