This Wednesday, President Obama welcomed the twenty-four recipients of this year's National Medals for the Arts and National Humanities Medals. Among those honored included Herb Alpert, Tony Kushner, George Lucas, Jill Ker Conway, Marilynne Robinson, Robert B. Silvers, Camilo José Vergara, and Anna Deaveare Smith.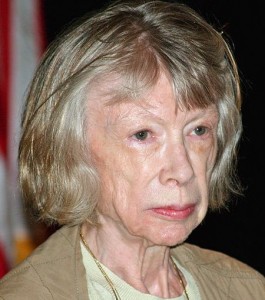 But the impossibly petite and extremely frail Joan Didion stole the show. Honored for her stellar journalistic work (and pristine, genre-establishing prose), Joan Didion's presence on the dais should come as no surprise. President Obama said himself, "I'm surprised she hasn't already gotten this award."
Some of Didion's work has been extremely critical of U.S. foreign policy over the years, including Salvador, which described her trip to El Salvador at the height of the civil war there in 1982. Others to be recognized for similarly controversial work were playwright Tony Kushner, and New York Review of Books Editor Robert Silvers.
For those fan's of Didion's political writing, her bitingly beautiful nonfiction, or even her memoirs and novels, it was a beautiful thing to see her accepting a medal that likely weighs as much as she does.
Related: Collectible Signed Limited Edition of The Book of Common Prayer