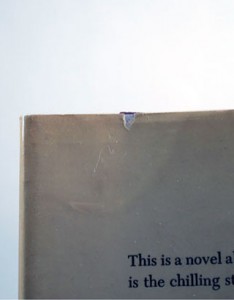 When it comes to topic of book collecting, there is nothing more important than the condition, which usually has a direct correlation to its value. Therefore, when you are seeking to add that special edition to your collection, always be sure that the condition is properly and accurately described.
The condition of a book is usually described in the form of F/NF, F/VG, etc. The first part is the condition of the book itself. The second part is the condition of the dust jacket, if there is one.
Below is a list of the book grading definitions that are commonly used to describe the condition of a collectible book.
Very Fine (VF), or "New"
The highest grade given to any copy, very fine is a term that describes a crisp fresh copy and it admits no flaws. Any copy with even a minor blemish must not be graded very fine; therefore, there is no "else very fine" grade. Please note that "mint" or "as new" or "New" may be used in the place of "very fine." While we feel that "very fine" is more precise, there is nothing improper in the use of those terms in description.
Some Very Fine graded books are still sealed in the original publisher's shrink-wrap. Any such "Very Fine" sealed book will be free of bumped corners, etc.
There will always be discussion as to whether any rare first edition that is 20 or 30 years old can truly be designated as a "Very Fine" copy instead of "Fine", if it indeed exhibits no flaws.
Fine (F)
A copy that is without visible flaws, but one that may lack the pristine crispness of a very fine copy. Many antiquarian dealers quite properly never give a book a grade higher than fine. A book that is graded "fine" has had excellent and loving care. Any minor blemish in the book or the dust wrapper must be noted in the description. A Fine copy should be free of markings, writings, or stamps.
Near Fine (NF)
A copy that is in NF condition has one or very few minor flaws that prevents it from being a true Fine or Very Fine. An example of this might be minor edge-wear, or a small closed tear on the dust-jacket.
Very Good (VG)
The most common grade given to a collectible copy, very good means exactly what it says. A very good copy is no longer fresh; it has been handled and shows some signs of wear, but it is still sound and appealing. Flaws such as ownership signatures, bookplates and remainder marks must be noted in the description, along with rubbing, chips and tears, and price-clipping in dust wrappers, where applicable.
Uncollected Conditions (UC)
This describes a copy that is not whole either in binding or text, or abused to the point of not being sound or attractive. Ex-library copies with pockets glued to – or torn off – the endpapers, abundant rubber stamping and pasted-down lending sheets. An ex-library copy may be acceptable reading copy, but not collectible copy.