New this week are three rare acquisitions by bestselling authors Stephen King, William Peter Blatty and Kurt Vonnegut. All magnificent heirlooms for the astute collector. The perfect gift for yourself or a loved one! We appreciate your stopping by and hope you'll take advantage of time-saving alerts periodically sent right to your inbox, on all new arrivals, plus contests, featured book signing events, book collecting articles, special offers and more by taking a moment to sign up for our Free Newsletter.
[hr]
Doubleday 1977, Stephen King, "The Shining" dj/HC First Edition – First Printing (Near Fine)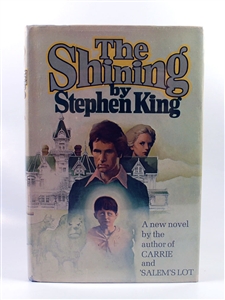 The Shining quickly became a benchmark in the literary career of Stephen King. This is a First Edition – First Printing, first published in 1977. See all nine photos here.
Stephen King, "The Shining" New York, New York, U.S.A. Doubleday 1977.. True First Edition, First Printing. "First Edition" as stated on Copyright Page. "R49" in gutter of page 447. Unclipped price of $8.95 still intact on inside front dust-jacket flap. Original production run was 25,000 copies.
"YOU'RE THE CARETAKER, SIR. YOU'VE ALWAYS BEEN THE CARETAKER. I SHOULD KNOW, SIR. I'VE ALWAYS BEEN HERE…."
— DELBERT GRADY OF THE OVERLOOK HOTEL
Condition: NF/NF. Clean and straight boards, free of markings, writings, or stampings. A wonderful bright clean copy with no attached bookplates or indication of any removed.
[hr]
Easton Press, William Peter Blatty "The Exorcist" Signed Limited Edition (COA and Collector's Notes) Very Fine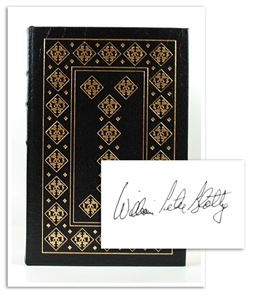 Personally signed by William Peter Blatty on a special dedication page. When originally published in 1971, The Exorcist became not only a bestselling literary phenomenon, but one of the most frightening and controversial novels ever written. When the author adapted his book to the screen two years later, it then became one of the most terrifying movies ever made. Only one in stock. Buy it now.
Condition: Very Fine
Blatty fictionalized the true story of a child's demonic possession in the 1940s. The deceptively simple story focuses on Regan, the 11-year-old daughter of a movie actress residing in Washington, D.C.; the child apparently is possessed by an ancient demon. It's up to a small group of overwhelmed yet determined humans to somehow rescue Regan from this unspeakable fate. Purposefully raw and profane, this novel still has the extraordinary ability to literally shock us into forgetting that it is "just a story." The Exorcist remains a truly unforgettable reading experience.
[hr]
Easton Press, Kurt Vonnegut "While Mortals Sleep" Signed First Edition (Sealed)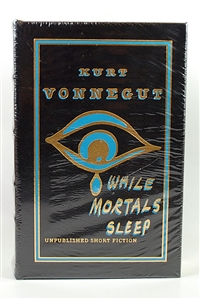 A rare signed limited first edition, personally hand signed by Kurt Vonnegut on a special title page. See all photos here.
Easton Press. Norwalk, CT. 2011. Kurt Vonnegut, Jr . "While Mortals Sleep". Signed First Edition. Luxuriously bound in full genuine leather. A magnificent heirloom for the collector. COA from Easton Press guarantees signature authenticity. This edition, issued after his passing in 2007, has been SIGNED by the author Kurt Vonnegut on a tipped in sheet prior to publication. It includes sixteen previously unpublished short stories in a collection of works from the beginning of Vonnegut's career.
Condition: Very Fine. As New (Sealed).