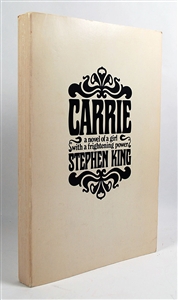 New this week is an advance proof of the First Edition of Stephen King's "Carrie," with "Special Edition Not for Sale" printed on the bottom of the back cover. Buy now.
Stephen King "Carrie." Doubleday New York 1974. Special advance US Proof of the First Edition. A wonderful near fine example of this extremely rare "true" first printing of the legendary author's first published novel. Octavo. 199 pages. Black titles on the front and back cover and printed on the bottom of the back cover as follows:
SPECIAL EDITION NOT FOR SALE
TO BE PUBLISHED APRIL 1974 BY DOUBLEDAY & COMPANY, INC.
Condition: A wonderful bright clean copy in near fine condition with original printed wraps. Tight spine shows a slight lean with creasing. No markings, writings, or stamps. No attached bookplates or indication of any removed. No missing or ripped pages. A very presentable soft cover book is excellent original condition. Includes custom cloth clamshell case.
About "Carrie"
The author's first published novel, and to this day, one of his most horrifying, about a young girl with telekinetic powers. Basis for the 1976 film of the same name, directed by Brian De Palma, and starring Sissy Spacek, Piper Laurie and Amy Irving. The film received two Academy Award nominations, one for Spacek (Best Actress in a Leading Role) and the other for Laurie (Best Actress in a Supporting Role).
Additional Book Information
Why read Carrie? Stephen King himself has said that he finds his early work "raw," and Brian De Palma's movie was so successful that we feel like we have read the novel even if we never have. The simple answer is that this is a very scary story, one that works as well–if not better–on the page as on the screen. Carrie White, menaced by bullies at school and her religious nut of a mother at home, gradually discovers that she has telekinetic powers, powers that will eventually be turned on her tormentors. King has a way of getting under the skin of his readers by creating an utterly believable world that throbs with menace before finally exploding. He builds the tension in this early work by piecing together extracts from newspaper reports, journals, and scientific papers, as well as more traditional first- and third-person narrative in order to reveal what lurks beneath the surface of Chamberlain, Maine.
News item from the Westover (ME) weekly Enterprise, August 19, 1966: "Rain of Stones Reported: It was reliably reported by several persons that a rain of stones fell from a clear blue sky on Carlin Street in the town of Chamberlain on August 17th."
Although the supernatural pyrotechnics are handled with King's customary aplomb, it is the carefully drawn portrait of the little horrors of small towns, high schools, and adolescent sexuality that give this novel its power, and assures its place in the King canon.
Background
Stephen King revealed in a later essay that the character of Carrie was based on a girl he had known at high school. She was apparently an undiagnosed epileptic, considered odd, different, tormented and alone, apparently from an extremely religious family, although not as abusive as Margaret White. After high school graduation, this girl reportedly moved into a large city and became independent, but died a year later when she suffocated during a seizure. King said that this incident taught him that "there are no happy endings."
Carrie was actually the sixth novel that Stephen King had written, but the first to be published. It was written while he was living in a trailer in Hermon, Maine, on a portable typewriter that belonged to his wife, Tabitha. The novel originally started as a short story for Cavalier magazine, but King abandoned it, throwing it into the trash. His wife fished it out, read it and convinced him to continue writing.
At the time of publication, King was working as a teacher at Hampden Academy and barely making ends meet ($6,400 annually). To cut down on expenses, King had the phone company remove the telephone from his house. As a result, when King received word that the book was chosen for publication, his phone was out of service. Doubleday editor, William Thompson (who would eventually become King's close friend), sent a telegram to King's house which read: "CARRIE OFFICIALLY A DOUBLEDAY BOOK. $2,500 ADVANCE AGAINST ROYALTIES. CONGRATS, KID – THE FUTURE LIES AHEAD, BILL." New American Library bought the paperback rights for $400,000, which according to King's contract with Doubleday, was split with them.
King recalls, Carrie was written "after Rosemary's Baby but before The Exorcist, which really opened up the field. I didn't expect much of Carrie. I thought who'd want to read a book about a poor little girl with menstrual problems? I couldn't believe I was writing it."
The book is dedicated to his wife, Tabitha: "This is for Tabby, who got me into it – and then bailed me out of it."
Carrie was published April 5, 1974 with an initial print run of 30,000 copies for a cover price of $5.95 USD.
The hardback sold a mere 13,000 copies, while the paperback, released a year later, sold over 1 million copies in its first year. Brian DePalma's film adaptation was released ten weeks after King's second book, Salem's Lot, was published.
Prior to Carrie, King had been rejected from Doubleday for his novel Getting it On (later retitled to Rage and released under the pseudonym of Richard Bachman). He had also written The Long Walk and The Running Man (both also released under the Bachman penname).
In a talk at the University of Maine at Orono, King said of Carrie, "I'm not saying that Carrie is shit and I'm not repudiating it. She made me a star, but it was a young book by a young writer. In retrospect it reminds me of a cookie baked by a first-grader- tasty enough, but kind of lumpy and burned on the bottom."
Trivia
Stephen King later reprised the notion of a child who uses telekinetic ability, consciously or unconsciously, to cause a shower of rocks onto a house, in Rose Red. Annie Wheaton, who is supposed to be autistic, has full control of her powers at a younger age than Carrie and destroys two houses with showers of rocks. Auditions for Carrie and Star Wars were held together. William Katt auditioned to play Luke Skywalker in Star Wars but instead played Tommy Ross in Carrie. There is a rumor that similarly, Sissy Spacek auditioned to play Princess LeiaCarrie Fisher auditioned to play Carrie; however, Fisher herself dispelled this rumor. and CKY frontman Deron Miller is a huge Carrie fan, frequently wearing t-shirts of the film at concerts. He also claims that his song "To All of You" from the "Volume 1" album was inspired by Carrie.