We are pleased to announce a new slipcased edition of The Mister (a signed first edition, first printing) by E.L. James. This special version will be limited to only 25 slipcased and sealed copies and will be available soon.  To get on the waiting list, please go ahead and sign up below. We will notify you once this goes on sale for pre-order. This item will become available on a "first come, first served" basis – you will have the choice of number!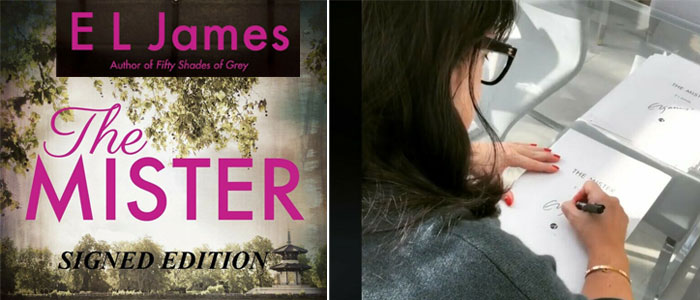 Book Features
Personally signed by E L James. "The Mister" UK 1st/1st softcover
E L James did not issue a hardback first printing with the 50 Shades Trilogy and has not issued a hardback first printing for The Mister.
UK Signed First Edition/First Printing Softcover
Slipcased Version, Limited to only 25 produced.
Very Fine without any flaws.
the same quality and attention from veryfinebooks
Professional packing and shipping.
30 Day Returns (free 2-way shipping)
Ship date: May, 2019
Bibliographical Details
Paperback: 512 pages
Publisher: Arrow (16 April 2019)
Language: English
Publisher: Cornerstone
ISBN: 9781785175862
About the book
This is the thrilling new romance from E L James, author of the phenomenal number 1 bestselling Fifty Shades trilogy
London, 2019. Life has been easy for Maxim Trevelyan. With his good looks, aristocratic connections, and money, he's never had to work and he's rarely slept alone. But all that changes when tragedy strikes and Maxim inherits his family's noble title, wealth, and estates, and all the responsibility that entails. It's a role he's not prepared for and one that he struggles to face.
But his biggest challenge is fighting his desire for an unexpected, enigmatic young woman who's recently arrived in England, possessing little more than a dangerous and troublesome past. Reticent, beautiful, and musically gifted, she's an alluring mystery, and Maxim's longing for her deepens into a passion that he's never experienced and dares not name. Just who is Alessia Demachi? Can Maxim protect her from the malevolence that threatens her? And what will she do when she learns that he's been hiding secrets of his own?
From the heart of London through wild, rural Cornwall to the bleak, forbidding beauty of the Balkans, The Mister is a roller-coaster ride of danger and desire that leaves the reader breathless to the very last page.
About the author
Erika Leonard (née Mitchell; born 7 March 1963), known by her pen name E. L. James, is a British author. She wrote the bestselling erotic romance trilogy Fifty Shades of Grey, Fifty Shades Darker, and Fifty Shades Freed,  along with the companion novels Grey: Fifty Shades of Grey as Told by Christian and Darker: Fifty Shades Darker as Told by Christian; and under the name Snowqueen's Icedragon the Twilight fan fiction "Master of the Universe" that was the basis for the Fifty Shades trilogy.
The combined novels have sold over 125 million copies worldwide, over 35 million copies in the United States and set the record in the United Kingdom as the fastest selling paperback of all time.  In 2012, Time magazine named her one of "The World's 100 Most Influential People." The novels were subsequently adapted into the films Fifty Shades of Grey, Fifty Shades Darker, and Fifty Shades Freed.