After we asked you "What would be your top 2 questions when it comes to collecting the great works of Stephen King?" , we received 277 entries with over 550 questions. The overwhelming results is a testament to the popularity of collected King books.
In terms of what is the most important aspect of acquiring a book for your collection, you said the number one requirement (as you might expect) is condition. You can be lucky enough to own the most rare book in the world, but if the condition is lacking, it may not be worth very much. The boards might be coming off, there may be writing inside, stamps, pages ripped or missing, or who knows what else – not very desirable to any collector.
After all, it is only worth what someone is willing to pay for it. This cannot be stressed enough. For a modern first edition to be desirable, there is no attribute greater than condition. This affects its value and every grade down in condition can have an exponential drop-down in worth.
Coming in 2nd was the authenticity, not only for the authenticity of the signature but also the authenticity of the printing state, first edition, or first printing. It is obvious that the value of a signed King book is inherent in whether the signature is genuine. (see question/answer on how to tell if autograph is genuine).
Coming in at a close 3rd were considerations such as shipping speed, packing quality, and price.
Thank you to everyone who submitted their questions. It took quite a bit of time to read through and organize everything. Out of all the questions received, you will find ten on this page that will shed some more light on book collecting.
Identifying First Editions – Many of you asked a question along the lines "I have a signed copy of [Insert title here]. How do I know that it is a first edition?" If you haven't seen this already, we have a useful on-line guide for identifying first edition here. You can search this guide – with over 57 novels, this comes in quite handy instead of scrolling through endless pages of data.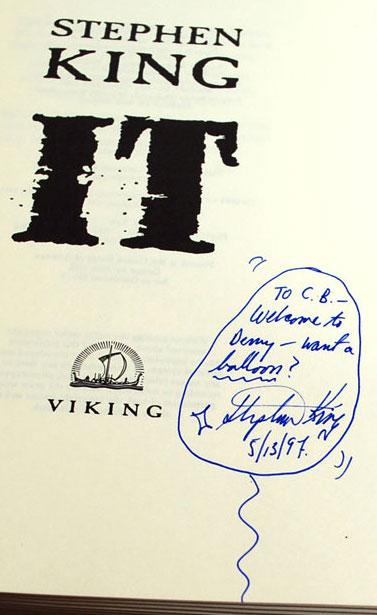 Question and Answer
Tony asks "What is the best way (outside of S/L books) to ensure the signature is authentic?"
This is a question that many of you asked. For a non-signed limited edition, how do I know that the signature is real and that I'm not stuck with a fake?
When dealing with signed books, you want to be extra careful about this, to ensure that it is indeed genuine. Otherwise you will have something that is worthless or close to worthless.
In fact, a first edition with a fake signature may be worth less than the exact same first edition without a signature at all. As many of you have already pointed out, it is always best to buy from a reputable bookseller, especially one who has a catalog of other signed books by the same author.
A reputable bookseller will exercise extreme care in offering books that are genuine.
Any such bookseller will go to great lengths to guarantee that their offerings are genuine. For example, whenever we acquire a new signed book for resale, we examine it very closely to ensure that the autograph is real and not a facsimile, stamp or auto-pen. In making a determination on the signature, we consider a wide range of writing analysis tests including writing surface, writing instrument, ink comparisons, area measurements and slant, pen pressure and angle, letter size and formation, flow, and other similar characteristics. In some cases, we may even consult with an outside source on autographs that appear to be suspect.
Before purchase, you should see a close-up detail of the autograph and even get a second opinion. Always make sure that if there is any doubt you do not have the real thing, that you have the option to return it for a full refund.
As you already know, when King writes his name inside a book, it increases the value by many hundreds (if not thousands) of dollars. For this reason, he is one of the most forged authors out there.
Another way to determine if the autograph is genuine is to recognize the fact that an author's autograph changes over time. For example, a King inscription from 1980 will look entirely different from one in 2010. The autograph should be period-correct. Here are some Stephen King autograph examples over the decades.

---
Marcella asks "Does the book need its jacket to make it more valuable?"

So how important is the original dust jacket to a book? In one word: Very. The dust-jacket alone can be worth as much as 80% of the value of the book, considering that the dust-jacket is the original one and fits properly. Some first editions are lacking dust-jackets and ones from other books are fitted on. However, they may not be a good fit, since a book may take its own unique shape over the years.
The dust-jacket is also the starting point of the grading process. When you are looking at online catalogs of rare books, you will find that there is one grade for the dust-jacket and one for the book itself. Both are important, but the dj is the starting point, since they are not easily replaced. For example, exceptional first printing DJ examples of the early books like Carrie, Salem's Lot, The Stand (1980), and The Shining are quite rare. Very few have survived in Fine or Near Fine condition, and they are not printing them any more. Furthermore, you can always find replacement facsimiles for hardcovers without DJs but they will never replace the original.
---
Wolfgang asks "Would Stephen King sign books on request?"
Not any more. In the early years you could send a couple of books into his office and have them returned, signed and personalized along with a letter. Can you imagine if that option was available today? He would be flooded with requests. There would not be enough hours in the day to sign all of them. Besides, he probably has better things to do, like write his next novel. For that reason, if you want to get your book signed in person, a book signing is your best bet.
---
Rogier asks "How can I be certain that I obtain a genuine signed limited from a private buyer?"
You probably mean 'from a private seller". Unless it has a "facsimile autograph" as stated by the publisher, you should not have any doubt of authenticity of a signed limited edition when buying directly from a private seller. However, you should verify the condition as described by the seller by viewing many photographs. Even a short tear in the dust-jacket or a small bump in the tray-case will negatively affect its value. If there is any piece of advice I can give you when buying from a private seller, make sure you are 100% confident you can get your money back, under any circumstances. One of the most helpless feelings is being stuck with a fake, or something that wasn't as described, and not having any recourse to get your money back.
---
John says "What makes a specific book more collectable than another?"

Some books have become increasingly scarce in recent days and therefore more collectible than others. It is human nature to want what we can't have, or to want what very few can own. Therefore, a first edition, a signed first edition or a signed limited of popular King novel has a tendency to become highly sought after by collectors and very valuable. There are many examples of this, including a first edition of Salem's Lot, the very first S/L, Firestarter, a first edition of The Gunslinger, and the S/L of THE STAND, which many collectors hail as the most luxurious edition of any King title ever published.
---
Randall asks…"Why do signed King books cost so much since he is still living and does book signing?"

Supply and demand. If more collectors want something that is quite scarce, then the value will increase. There are many examples of this, especially of very popular signed limited editions with a production run of 1,000 or fewer. The signed lettered editions are usually the most collectible, since they are the most rare and capped at only 52 copies in most cases. It is also of interest to add that King does not do formal book signings for each novel released and therefore signed copies of these books are worth more since there are fewer of them around. A recent example – there was never a formal signing for Mr. Mercedes and a signed first edition of this title is quite rare. There are estimated to be only a dozen or so in circulation, with a value between $450 to $600 depending on condition.
---
Carole asks "Why don't first editions always come with slipcases?"
First edition books are generally mass produced, and do not come with slipcases. Adding a slipcase would at least double the price. Slipcases are commonly produced in the after-market, and can be found by specialty publishers. In addition, not every First edition becomes collectible and therefore not everyone would want a slipcase to go along with it.
---
Dan says…"I met a "super" SK fan who was a collector about 14 yrs ago. She invited me by her house once and she had most of her collection in a vault-type bookcase. It was very big and secured. My question as a non-collector is — do most people also do this? Do you recommend to collectors to keep these valuable books under lock and key? If you answer this- thank you. "

This is a personal choice. Of course it is not always necessary to go down the extreme route of lock and key. However , if your collection is valuable enough, you should seriously consider having it insured in case the worst were to happen.
---
Stan asks…"Two part question; When you purchase over the internet, A. How are you assured of the grading of the condition of the book matches your definition of the condition of the book (fine vs. very good). B. How are you assured that the signature of Stephen King is authentic. I have seen a picture of signature page for a SK book on the internet that misspelled SK name as "Steven King". This is an obvious example but how do you know the signature is authentic?"
A: There is a standard for grading books that is widely accepted and each seller should make every effort to adhere to those standards. The grades range from "Very Fine" to "Uncollected" ; usually the better the grade, the more valuable the item. Here is more on book grading definitions. Very Fine is reserved for only As new copies. One word of caution: There is no such thing as a "Very Fine" copy of a First Edition of Carrie, since the book is now 40 years old, and will not be as clean and crisp as a brand new copy coming off the presses in 2014. The best way to verify the grade of the book before purchase is to look at the photographs provided. Again, visit the link above to learn more about the grades.
B: See answer to other question above. On occasion King has signed books as "Steve" or simply "Steven. This is more personal and unique than the standard "Stephen King" and therefore more collectible.
---
Lola asks "What is the best way to store my collection so the least amount of damage occurs over the years?"

Short answer to this – keep in a cool dry (not too dry) place that is free from moisture, sunlight, and/or anything else that can cause potential damage. You may also consider storing more valuable books in clear plastic bags (with some air opening for the book to "breathe") or in a custom tray case for better protection.
So what do you think? Leave a comment or ask your own question below: