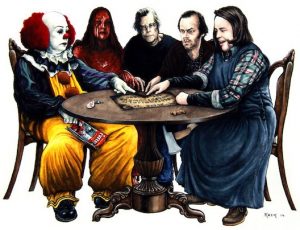 by Danielle DeLisle
Ever get that strange feeling you might actually, truly, without a doubt be in a Stephen King novel?
Something about the way your car seatbelt has been slightly tighter lately, or maybe it's the way you keep seeing clowns with sharp teeth everywhere.
It's weird, but you aren't positive being a character in a SK novel is the cause of the phenomena. That's where this test comes in! I have provided a helpful test to ease your anxiety. Your life certainly won't be better if you ARE a character in a Stephen King novel, we all know how those turn out, but at least you'll know. Right?
Simply read the list of statements below and put a check by every statement that applies to you. Each check is worth one point. When you are finished add up your points and use the key to find out if you are, in fact, a Stephen King character. It's that simple!
1) You are or have ever been a writer.
2) You live or have lived in Maine.
3) You live or have lived in a town named Derry or Castle Rock.
4) You have an irrational fear of an everyday object (toy, drain, library).
5) You have a severe mental or physical handicap (blind, autistic), but somehow have amazing psychic abilities.
6) You give terrifying/special things in your life completely innocuous nicknames (The Dark Man, The Shining, Captain Trips).
7) You think a novel of your life would be great, but the movie would really suck.
8. That novel of your life mentioned above? It would be no less than 800 pages.
9) You hear horror stories about a place (hotel room, town), but insist on going there anyway.
10) You dream of a dark tower and a world that has moved on.
11) You have exactly nineteen letters in your first, last and middle names put together.
12) You have ever completely dismissed/ignored someone you think is beneath you (gypsy, circus performer, child) only to regret it later.
13) The women/men in your life tend to be whiny, domineering and/or abusive. You can't wait to "get rid of them" forever.
14) You have a split personality and/or different voices in your head that make running commentary on what is happening to you and/or torments you.
15) Whenever you are in a bad situation there is always that one crazy person (religious freak, delusional) and/or jerk to make your life miserable.
16) You like to name inanimate objects and frequently talk to them.
17) No matter what year you live in you listen to classic rock. Always.
18) You have innumerable folksy phrases at your fingertips.
19) Someone in your life could be described as an everyman. If you don't think you know anyone who fits this description…check yourself.
20) Animals around you (cats, dogs, rats, birds) seem to be commentating on your life. If only you could be sure it was in your head.
KEY
0-6 Points ~ You are not a character in a Stephen King novel.
You an rest easy knowing that your are not living in a Stephen King novel. Your life may not be perfect, but at least you won't be hunted down by rabid dogs, guys named Ace or prehistoric creatures.
7-13 ~ You are a supporting character in a Stephen King novel.
You may not be a main character in a Stephen King novel, but I am willing to bet you have seen some weird stuff going on in your town. Keep your head down and ignore any strange things you see. It's the only way to make it to the end.
14-19 ~ You are a main character in a Stephen King novel.
The bad news is that you ARE the main character in a Stephen King novel. There is just too much evidence to ignore it anymore, but you probably already know that. The good news is that your New England stoicism and common sense will see you through. Probably.
20 ~ You are Stephen King.
Hello! Can I have an autograph?
About the author – Danielle DeLisle is a writer and fan of Stephen King. She occasionally writes for the Innsmouth Free Press and can be reached at danielleldelisle@gmail.com.
Browse a selection of Stephen King rare collected works.