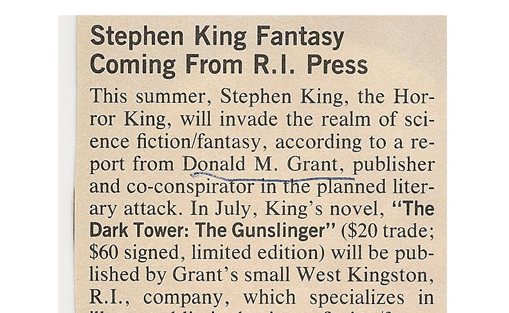 Here is an oldie but goodie if you are a Dark Tower fan.
If you haven't seen this already, it's an article scan dating back to 1982 by Publisher's Weekly that discusses the launch of the upcoming Dark Tower book by Donald M. Grant publishers.
It is interesting to note that this first Dark Tower book was King's first illustrated book, done by Michael Whelan, who would later go on to illustrate many others in the years to come.
In the article, Grant states that "Everyone knows who King is; he's the most popular figure in sci-fi/fantasy today". Not exactly true, however, because up to that point, he was well-known as a horror writer, publishing novels such as The Stand, Carrie, and Salem's Lot. He was not considered as an author of science fiction or fantasy.
After you read the article, be sure to leave a comment below with any comment/questions. Here is a link to the article again:
http://www.veryfinebooks.com/Articles.asp?ID=350