For the avid Stephen King collector, we have four exciting new arrivals this week for your consideration. All books are rare and unique, and in excellent condition — most, personally hand signed by King. While you're here, don't forget to sign up for our free Newsletter, and take advantage of time-saving alerts periodically sent right to your inbox, on all new arrivals, plus contests, featured book signing events, book collecting articles, special offers and more.
[hr]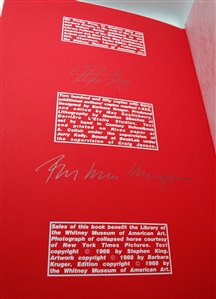 A Rare Over-Sized Production with Stainless Steele Covers and Artwork, personally hand signed by Stephen King and Barbara Kruger. For a complete set of photos, click here.
Whitney Museum of American Art. New York. 1988 "My Pretty Pony" Stephen King. Folio. pp. 64. Contemporary artists' book with original lithographed pages throughout designed by Barbara Kruger. Text by Stephen King. Bound in grey cloth covered boards, red leather spine. Both front and back covers coated with fixed sheets of stainless steele, with digital clock mounted on front. From the edition limited to 280 copies personally hand signed by both Stephen King and Barbara Kruger on the justification page. Housed in a custom hand-crafted cloth clam-shell case. The spine bears the title in silver over red embossments. A beautiful production.
Condition: As New. Mint condition without any flaws.
My Pretty Pony is a short story by Stephen King. Originally published in 1989 as an oversized, slipcased edition (with stainless steel faced boards and digital clock inset into front cover) commissioned for the Whitney Museum in New York as a coffee table book, it was later included in King's collection Nightmares and Dreamscapes.
Plot summary
An elderly man, his death rapidly approaching, takes his young grandson up onto a hill behind his house and gives the boy his pocket watch. Then, standing among falling apple blossoms, the man also "gives instruction" on the nature of time: how when you grow up, it begins to move faster and faster, slipping away from you in great chunks if you don't hold tightly onto it. Time is a pretty pony, with a wicked heart.
Trivia
In his note on the story in Nightmares and Dreamscapes, King says the piece was originally a flashback scene included in a full-length novel-in-progress in which the grandson was now a brutal hitman reflecting on his childhood. The novel was intended to be published under King's Richard Bachman pseudonym, but the author grew disenchanted with the work, and finally scrapped it entirely.
King references this concept again in the "Sorry, Right Number" screenplay (also collected in Nightmares and Dreamscapes) where a direction states that a character's "pretty pony has done its fair share of running" (indicating that they have aged relatively rapidly).
"My Pretty Pony" is also the name of a fictional indie rock band in "Debasement Tapes", an episode of the TV series Veronica Mars
[hr]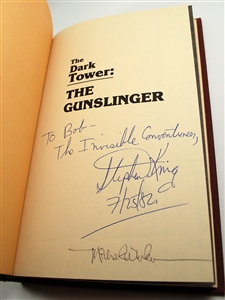 An Extraordinary Collector's Edition. If you're looking for a Signed First Edition of "The Dark Tower: The Gunslinger", Signed on the date of publication, then this is the one. Buy it now.
Claim your very own piece of Gunslinger history. This is the very first volume in The Dark Tower series, which King considers to be his "magnum opus". Only 10,000 of these were produced, even more scarce signed with a personal inscription. This significant signed first edition will enjoy a special status in your collection and be the focal point of your Stephen King library.
A highly valuable and uniquely Signed First Edition. For the serious Stephen King collector. First published in 1982, the story centers upon Roland Deschain, the last gunslinger who has been chasing after his adversary, "the man in black".
This US first printing has been boldly signed by Stephen King directly on the title page with a personal inscription. Signed on the date of publication 1982.
"To Bob –
The Invisible Conventioneer,
Stephen King
7/25/82"
This particular edition has also been signed by the illustrator Michael Whelan on the same title page.
Condition: Fine/Fine. Free of markings, writings, or stamps. The book sits perfectly flat on the tabletop, without any edge-wear or corner bumps. No attached bookplates or indication of any removed. The lettering is clear and unfaded. A lovely copy, square spine and free of damage. The dust-jacket is clean and sharp.
Correct First Edition – First Printing Markings
This signed first edition book has all the correct and accurate markings:
* "First Edition" as stated on Copyright Page
* Dust-jacket price $20.00 and $60.00 (unclipped)
* ISBN 0-937986-50-X
* ISBN 0-937986-52-X
* West Kingston, Rhode Island 1982
Additional Book Information
The Dark Tower is a series of seven books written by American author Stephen King and contains fantasy fiction, science fantasy, horror and western elements. They describe a gunslinger's quest toward a tower whose nature the books call both physical and metaphorical. King has described the series as his magnum opus; besides the seven novels that compose the series proper, many of his other books relate to the story, introducing concepts and characters that come into play as the series progresses. between 1970 and 2004. The series incorporates themes from multiple genres, including
The series was chiefly inspired by the poem "Childe Roland to the Dark Tower Came" by Robert Browning, whose full text was included in the final volume's appendix. In the preface to the revised 2003 edition of The Gunslinger, King also identifies The Lord of the Rings, the Arthurian Legend, and The Good, the Bad and the Ugly as inspirations. He identifies Clint Eastwood's "Man with No Name" character as one of the major inspirations for Roland. King's style of location names in the series, such as Mid-World, and his development of a unique language abstract to our own, are also influenced by J. R. R. Tolkien's work.
[hr]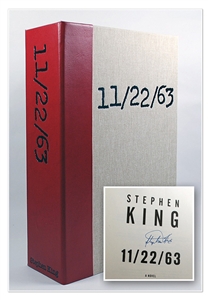 In stock and ready to ship. Brand new from the Master of Modern Horror. The ideal gift for the King fan this holiday season. Signed First Edition. Personally hand signed by Stephen King directly into the book onto the title page. No bookplates. Protected in Mylar plastic sleeve. Click here to see the full photo spread. Very Few Copies Remaining.
Signature Authenticity: You will receive a legitimate hand-signed edition. This book includes a 100% lifetime guarantee of authenticity and will pass authentication by the PSADNA, AMA (Academy of Manuscript and Autograph ), or any company that specializes in autographs. The autograph is genuine and not an auto-pen, stamp, or facsimile copy. Personally hand-signed by Stephen King directly into the book and not on a bookplate. Includes letter of authenticity.
Condition: Very Fine/Very Fine dj/HC. Free of markings, writings, or stamps. No bookplates attached or signs of any removed. No bumped corners. A wonderful bright clean copy.
This edition includes a custom traycase that is wrapped in a cream linen and leatherette and snaps shut with neodymium magnets. Inside is a two sided placard featuring news events from both timelines of 11/22/63.
About 11/22/63
On November 22, 1963, three shots rang out in Dallas, President Kennedy died, and the world changed. What if you could change it back? Stephen King's heart-stoppingly dramatic new novel is about a man who travels back in time to prevent the JFK assassination—a thousand page tour de force. Following his massively successful novel Under the Dome, King sweeps readers back in time to another moment—a real life moment—when everything went wrong: the JFK assassination. And he introduces readers to a character who has the power to change the course of history. Jake Epping is a thirty-five-year-old high school English teacher in Lisbon Falls, Maine, who makes extra money teaching adults in the GED program. He receives an essay from one of the students—a gruesome, harrowing first person story about the night 50 years ago when Harry Dunning's father came home and killed his mother, his sister, and his brother with a hammer.
Harry escaped with a smashed leg, as evidenced by his crooked walk. Not much later, Jake's friend Al, who runs the local diner, divulges a secret: his storeroom is a portal to 1958. He enlists Jake on an insane—and insanely possible—mission to try to prevent the Kennedy assassination. So begins Jake's new life as George Amberson and his new world of Elvis and JFK, of big American cars and sock hops, of a troubled loner named Lee Harvey Oswald and a beautiful high school librarian named Sadie Dunhill, who becomes the love of Jake's life—a life that transgresses all the normal rules of time. A tribute to a simpler era and a devastating exercise in escalating suspense, 11/22/63 is Stephen King at his epic best.
Book Details
Hardcover: 960 pages
Publisher: Scribner; Original edition (November 8, 2011)
Language: English
ISBN-10: 1451627289
ISBN-13: 978-1451627282
Product Dimensions: 9.3 x 6.3 x 2.7 inches
[hr]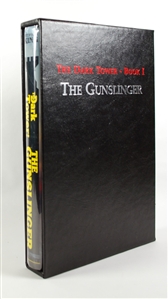 For the Discerning Stephen King collector, a rare First Edition/First Printing with matching slipcase. Order now.
Currently the First Edition of "The Gunslinger" is one of the most sought after collectible books that Stephen King has ever written. This is the book that started the The Dark Tower series, of which King considers his magnum opus.
"Dark Tower: The Gunslinger" Donald M. Grant Publishers. Copyright 1982 . "First Edition" as stated on the copyright page. First printing of this dj/HC book. Only 10,000 were printed. Not price-clipped. Original vintage hardcover collector's grade book. Original unrestored dust jacket. Illustrated by Michael Whelan.
Brand new Mylar covering is now on the book to protect your investment. Collector's grade hardcover book worthy of your Stephen King library. Includes beautiful matching black slipcase. This case is faux leather and has the title and author stamped in silver on the spine. The front states "The Gunslinger" in silver and "Dark Tower – Book I" in red. Fine slipcase.
Condition: Very Nearly Fine. A wonderful bright clean copy with straight boards. Free of markings, writings, or stampings. No attached bookplates or signs of any removed. A well-cared for book, protected from any potential damage. This book stands out as having had excellent care. Square and tight spine. Not price-clipped. Very light crinkling to corner of dust-jacket and small mark on hardcover book. A handsome copy in near fine condition. All photos are of the actual book you will receive.
Background & Publication
The novel was inspired by the poem "Childe Roland to the Dark Tower Came" by Robert Browning, which King read as a sophomore at the University of Maine. King explains that he "played with the idea of trying a long romantic novel embodying the feel, if not the exact sense, of the Browning poem." In March 1970, while a senior at the university, King began writing the novel on bright green sheets of paper. The five parts that constitute the novel were originally published in The Magazine of Fantasy and Science Fiction:
* "The Gunslinger" (October 1978)
* "The Way Station" (April 1980)
* "The Oracle and the Mountains" (February 1981)
* "The Slow Mutants" (July 1981)
* "The Gunslinger and the Dark Man" (November 1981)
In all, it took King twelve years to complete the novel. The finished product was first published by Donald M. Grant, Publisher, Inc. as a limited edition in 1982. In 1988, Plume released it in trade paperback form. Since then, the book has been re-issued in various formats and included in boxed sets with other volumes of the series.
In 2003 the novel was reissued in a revised and expanded version with modified language and added scenes intended to resolve inconsistencies with the later books in the series.