Gain exclusive insight into the current trends of the Stephen King rare book collecting world and discover new treasures to add to your collector's wish list.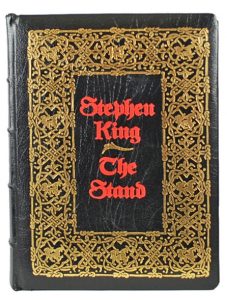 This list represents the most valuable book sales at veryfinebooks.com from 2016 and allows you to discover which books  advanced collectors are adding to their libraries . This is a reveal of our 10 top-dollar sales from 2016—offering you an extraordinary glimpse into the world of rare book collecting in terms of very fine books by Stephen King.
As you already know, very fine books collected sit at the top of the marketplace and command a premium ; they distinguish themselves from the many more common sub-par editions that you are likely to find elsewhere on the other online shopping marketplaces. Why is that so? Because those places have thousands of booksellers listing their books, so it often become cumbersome to sift through all the clutter.
Here at veryfinebooks.com, we have done all the sifting for you, and offer only the best possible examples of each title – serious Stephen King collectors appreciate their value. This intriguing list explores the very best examples of significant Stephen King collected literature throughout history (some even dating back to the 1980's): limited and first editions; signed first editions, and signed lettered editions. Some also include  breathtaking art by acclaimed illustrators; and much more.
Most Expensive Stephen King Books SOLD at veryfinebooks.com (2016)
---
The Dark Tower Collection – Signed Limited Edition (9 Volume Complete Set) – $16,500
A full collection of the Signed Limited Edition books by Donald M. Grant Publishers of the famous Dark Tower series, which King considers his magnum opus. Each volume is personally signed by Stephen King along with the artists. The Dark Tower series tells the story of Roland Deschain, Mid-World's last gunslinger, who is traveling southeast across Mid-World's post-apocalyptic landscape, searching for the powerful but elusive magical edifice known as The Dark Tower. Full complete sets are not common. Reference Category: The Dark Tower books
---
2. "Secretary of Dreams" Signed Lettered Edition, 2 Vol. Matched Set with artist remarques – $4,000.
Cemetary Dance Publications, Baltimore, MD. 2006 and 2010. "Secretary Of Dreams" Volume I and "Secretary of Dreams" Volume II matching signed lettered editions. Each volume has been personally signed by Stephen King and the illustrator Glenn Chadbourne. Signed limited lettered first edition. Each edition is an oversized hardcover, bound in fine materials with gilded page edges and protected in a large deluxe tray-case. Full genuine leather binding. Limited to only 52 Lettered Deluxe First Editions. These particular books are unique because they also contain original Artist Remarques. 
---
3. The Stand, Signed Limited Edition, Signed First Edition in black wooden "coffin" box – $3,200
Perhaps the most luxurious and popular example of any Stephen King signed limited edition ever produced. Limited to only 1,250 signed and numbered copies. Stephen King's most popular book, according to polls of his fans. A masterpiece – the apocalyptic confrontation between Good and Evil. Regarded by many as the author's greatest early novel. This particular edition has a very thin "glassine" dust-wrapper around the book.
---
4. "Salem's Lot" Centipede Press, Signed Deluxe Limited Edition Limited to only 300 copies – $3,200
Centipede Press 2004. Limited to only 300 signed and numbered copies. Printed on Mohawk Paper,  bound in exotic Japanese cloth with photos in a slipcase. Contains beautiful photos by Jerry Uelsmann. One of the most rare signed limited editions ever produced by a publisher. This edition has been personally hand signed by Stephen King along with the illustrator Jerry Uelsmann on the special limitation page. Note: The original issue price of this volume was $470 and has since then greatly appreciated in value. 
---
5. "From a Buick 8" Signed Deluxe Lettered Edition Leather Bound Edition Limited to only 52 – $2,500
Cemetery Dance Publications 2002. A Deluxe edition limited to only 52 signed and lettered copies. The book's design included the following extra features include: completely unique Lettered Edition with completely unique dust-jacket, leather black goat kidskin spine, and purple/black Corinthian paper for covers. This particular edition also included a purple page marker ribbon and custom imprinted lightning bolts on cover. Reference category:  Signed Lettered Editions.
---
6. Firestarter, Signed Limited Edition#47/250 Autographed and dated on the first day July 5th, 1980 – $2,400
Phantasia Press 1980. Signed limited edition #47 of only 725 copies produced. One of the most highly sought after King collectibles in the market place today, since  this is the very first signed limited edition published by Stephen King.  Each copy is personally signed and dated by Stephen King. The book was autographed over a period of four days, July 5th, 6th, 7th, and 8th. The first day of the signing, "July 8, 1980", has become the most collectible. This limited edition is special due to the low number and Fine/Fine condition.
---
7. The Red Leather Library Collection by BOMC (Book Of The Month Club) – $2,000
Thirty Seven books part of the Stephen King Library printed for members only with a limited print run — bound in bright red faux leather with golden lettering on the spine and cover – ECRE parchment end papers – there is a facsimile signature of the author on the cover – archival quality paper was used to prevent premature aging. These editions are now OUT OF PRINT and hard to find .The red leather books were only available to people that signed up to the Stephen King Library many years ago. They were published by the Book of the Month Club and bound in faux leather with Stephen King's signature in gold on the front board. Now they have become collector editions and are sought after by many King fans.
---
8. "IT" Signed Limited Deluxe, 25th Anniversary Editi0n by Cemetery Dance Pub. – $1,795.
This edition has been personally hand signed by Stephen King and all of the artists, Glen Orbik, Alan M. Clark, and Erin S. Wells on the special limitation page. This is the relatively lower #141 of only 750. A rare and highly sought after signed limited edition. Featuring a brand new afterword by Stephen King, full-color wrap-around color artwork by Glen Orbik, and nearly thirty original color and black & white interior illustrations by Alan M. Clark and Erin S. Wells! A deluxe oversized design (7 inches X 10 inches) featuring two color interior printing
---
9. "IT" Signed First Edition 1986 First Printing with leather bound custom tray-case – $1,700.
A rare and highly sought after Signed First Edition of IT, one of Stephen King's most popular classic novels. Signed first printing copies of this novel are quite scarce. Includes a custom one-of-a-kind leather bound tray-case especially designed and built to accommodate this volume. The case is 3/4 leather bound, and is a $600 value.
"I worked on the book in a dream. I remember very little about the writing of it, except for the idea that I'd gotten hold of something that felt very big to me, and something that talked about more than monsters…" -Stephen King
---
10. "The Dark Tower: The Gunslinger" Signed First Editi0n Signed by the illustrator Michael Whelan – $1,400.
Donald M. Grant Publishers. Copyright 1982. "First Edition" as stated on the copyright page. First printing of this hardcover book with dust-jacket. Only 10,000 were printed. Not price-clipped. Original vintage hardcover collector's grade book. Illustrated and signed by Michael Whelan directly onto the title page. Michael Whelan is one of the world's premier painters of imaginative realism. For 40 years he has created book and album covers for authors and musicians like Isaac Asimov, Stephen King, Ray Bradbury, Brandon Sanderson, the Jacksons and MeatLoaf. His clients have included every major U.S. book publisher, the National Geographic Society, CBS Records, and the Franklin Mint.
LEAVE A COMMENT