Happy Cyber Monday! New this week: I'll see your Bush and raise you three Kings. Don't miss out on these four great titles by former President George HW Bush and the master of horror, Stephen King. All are signed by the author and the books are of the highest quality.
Just a reminder: we are now closing in on the end of Day One of our special holiday sales event, The 4 Days of Very Fine Books. If you haven't already, head on over to the bookstore homepage and take advantage of this limited time sale where we're offering you a great opportunity to save 10 to 25% on nearly everything in the store, plus Four Bonus Gifts, including a Free extra book, as well as Free gift wrapping and more. See you over there!
Easton Press – George HW Bush "All the Best, George Bush" Signed First Edition w/COA (Very Fine)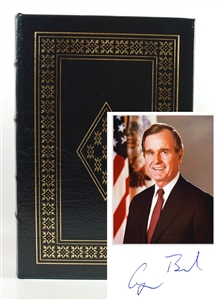 A luxurious leather bound collectible to showcase in your presidential library. This signed first edition has been personally hand signed by President H.W. Bush directly into the book. Get it now.
Easton Press Norwalk, CT. 1999. "All the Best, George Bush: My Life in Letters and Other Writings". Signed First Edition. 8vo. Full genuine leather. Beautiful dark blue leather binding. Includes Certificate of Authenticity, collector notes, and an extra unattached "Signed First Edition" bookplate for your own personalization. This is number 2,364 of only 3,000.
Condition: As New.
Stephen King "Misery" Signed First Edition – First Printing, Fine/Fine "from your #1 fan"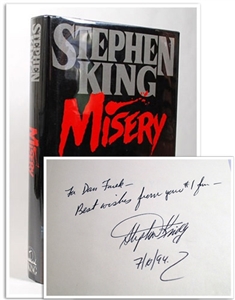 If you're looking for a signed first edition of Misery, then this is the one! New York. Viking 1987. First Edition. First Printing. A wonderful collectible. Get it now.
Boldly signed and inscribed by King on the FFEP (First Free End Paper):
"For Dan Farek,
Best wishes from your #1 fan!
Stephen King
7/10/94 "
Condition: Fine/Fine
Stephen King "Full Dark, No Stars" Signed First Edition, First Printing w/ Artist Remaque by Jill Bauman (Fine/Fine)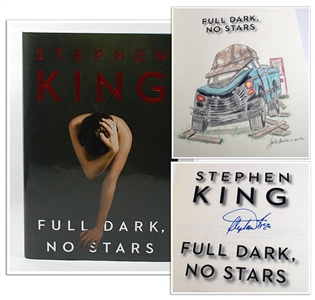 The ideal gift for the King fan this holiday season. A Signed First Edition, personally signed by Stephen King directly into the book along with an original remarque by the artist Jill Bauman. Get it now.
This book was obtained at the River Run Bookstore during the December 2nd book signing event in Portsmouth, NH. Only 400 people were able to attend this event, which makes this a rare find indeed. Only one book signing took place for this publication.
Scribner 2010. First Printing with full number line as required on the copyright page. A great collectible for the King fan and reader.
Condition: Very Fine for both hardcover and dust-jacket.
Doubleday 1978 – Stephen King "The Stand" Signed First Edition, First Printing w/Tray Case (Fine/Near Fine)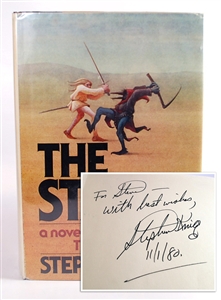 A literary treasure for the discerning collector. This first printing edition of The Stand has been signed by Stephen King with a personal inscription:
"For Steve – With best wishes, Stephen King 11/1/80"
Beautiful clear and clean signature presentation. For the savvy collector, presenting a Signed First Edition from the legendary horror writer Stephen King. A modern classic, signed by the author directly on the FFEP (first free end page). Collector's grade hardcover book. Get it now.
Very few have survived in this condition. A desirable copy with an early signature. If you're looking to add a signed first edition of "The Stand" to your collection, then this is the one.
Condition: Fine/Near Fine